Steelers haven't ruled out Ben Roethlisberger for Sunday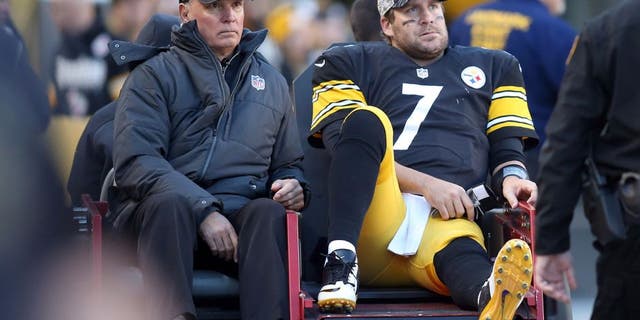 The Pittsburgh Steelers have not completely ruled out playing Ben Roethlisberger this weekend.
The Steelers listed their veteran quarterback Friday as questionable for Sunday's game against the visiting Cleveland Browns.
Roethlisberger left with a mid-left foot sprain in the fourth quarter of last week's win over the Oakland Raiders and had to be taken to the locker room on a motorized cart.
On Tuesday, during his weekly press conference, coach Mike Tomlin said the door was "slightly ajar" for Roethlisberger to play Sunday.
Just how open that door remains to be seen. Roethlisberger was a limited participant in practice for as a second straight day Friday after sitting out Wednesday.
Meanwhile, starting linebacker James Harrison has been declared out of Sunday's game along with linebacker Terence Garvin, tight end Matt Spaeth and safety Shamarko Thomas. All have knee injuries.
Tomlin said the Steelers would prepare for this week's game with the idea that backup Landry Jones would be the starting quarterback.
Roethlisberger missed four games last month with a sprained left knee after being injured Sept. 27 in a win at St. Louis.
The Steelers were 2-2 without Roethlisberger, winning two of three with Mike Vick starting before he injured a hamstring.
Jones lost his first NFL start to the Chiefs at Kansas City on Oct. 25 but came off the bench to rally the Steelers to wins over the Arizona Cardinals with two second-half touchdowns passes on Oct. 18 and Oakland last Sunday when they drove 79 yards in seven plays for Chris Boswell's deciding 18-yard field goal with two seconds left.
Jones threw two interceptions and lost a fumble in his first start. However, he said the lesson he learned in that loss is to keep things simple.
"To be honest with you I just have to go out there and play," Jones said. "I can't play timid. I can't worry about mistakes and worry about the future. I just have to cut it loose."
Whoever starts at quarterback will likely have right tackle Marcus Gilbert protecting them. Slowed by a toe injury, he is listed as probable.
Gilbert had a strong game last week as he helped keep Raiders standout linebacker Khalil Mack from registering any tackles.
"When you're going against players like that you have to step it up a notch," Gilbert said. "They're impact players, game-changers, too. It's all about bringing your `A' game, being an `A' player, playing an `A' game and making `A' plays.
"Players have to bring their `A' game in an `A' type game. I put that on my shoulders and I play it with pride."
NOTES: LB Ryan Shazier (knee) was a full participant in practice after being sidelined Wednesday and Thursday and is listed as probable. . Also probable are WR Darrius Heyward-Bey (hamstring), FB Will Johnson (back), NT Steve McLendon (elbow), RB Isaiah Pead (knee) and RB DeAngelo Williams (foot).