Steelers guard says Vontaze Burfict is putting players' livelihoods at risk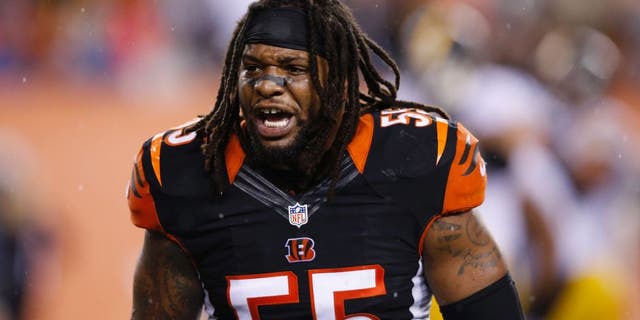 Vontaze Burfict has a long history of being a borderline dirty player. He's been fined, flagged and even suspended for his controversial actions on the field, yet none of his previous punishments have sent a strong enough message.
Against the Patriots on Sunday, Burfict dove at Martellus Bennett's knees despite the tight end not being entirely involved in the play. Later in the game, Burfict appeared to stomp on LeGarrette Blount's leg after a touchdown.
Burfict was suspended for the first three games of this season after his helmet-to-helmet hit on Antonio Brown in the playoffs, but it may be time for a lengthier ban to send a message. Steelers guard Ramon Foster certainly believes something needs to be done.
"There's no place for that, man. To continuously do it -- one or two times, okay I get it, but every single time? A stake has to be driven into the ground on this guy and I'm not sure what they care about, touchdown celebrations or player safety, but something has to be done," Foster said, via CBS Local.
Foster argues that Bennett could have been seriously injured on the play, potentially ending his season.
"If you look an inch or two inside, if he goes more on [Bennett], that guy's out for the season or at least for a longer [period] of time," Foster said. "With the leg stomp on LeGarrette Blount, that guy has a wife and two kids. He's trying to make his way in this league."
This isn't the first time Burfict has been accused of being dirty, and it's definitely not the first time he's been caught in the act. Foster said he's been stomped on by Burfict too.
"I also saw another clip to where him and [Rob Gronkowski] got into it. He did the same exact thing. He stepped on [Blount's] leg and his shoe came off. And I'm looking at him like, 'Yup, that the same exact move that he's done to me too.'"
It remains to be seen whether the NFL will take action and suspend Burfict for his actions, but there's a good chance he's at least fined. Will that be enough to send a message? Probably not.
Foster can't stand to see it keep happening.
"It's frustrating to continue to see that go on. For one, I just can't understand the mentality of him and two, those are the same things that he's been doing for a while," he said. "But, the low hit on [Bennett] was insane. I know people are going to defend him and people are probably going to bash me."