Steelers' Antonio Brown says cartwheel could be next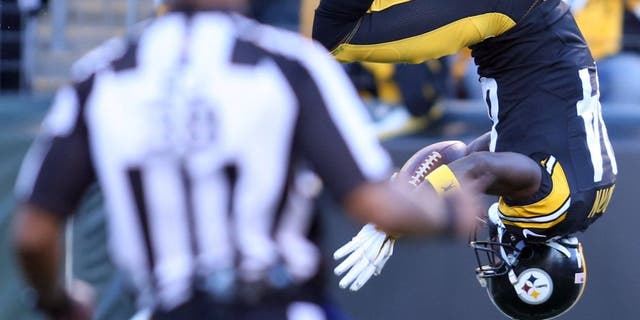 Antonio Brown may show off more acrobatics the next time he reaches the end zone. Charles LeClaire Charles LeClaire-USA TODAY Sports
Steelers receiver Antonio Brown received a perfect 10 from Olympic gold medalist Mary Lou Retton for his somersault into the end zone last Sunday against Cleveland. Now he may add some new tumbles to his routine.
Brown may spend the team's bye week pondering what he'll do after his next touchdown. A visit to Seattle to play the Seahawks will be next on the schedule.
"It's hard to score touchdowns, so any time you get that moment, you might get a backflip, cartwheel," Brown said per ESPN.com's Jeremy Fowler. "We'll see."
Steelers head coach Mike Tomlin said after the Cleveland game that he didn't mind Brown's front flip while quarterback Ben Roethlisberger jokingly recommended that Brown abandon his acrobatics to avoid the risk of injury.
With a little extra time during the bye week, Brown may spend some time flipping with his children.
"I'm trying to get my kids to learn how to stick it," Brown said.