StaTuesday: Guerra proving better late than never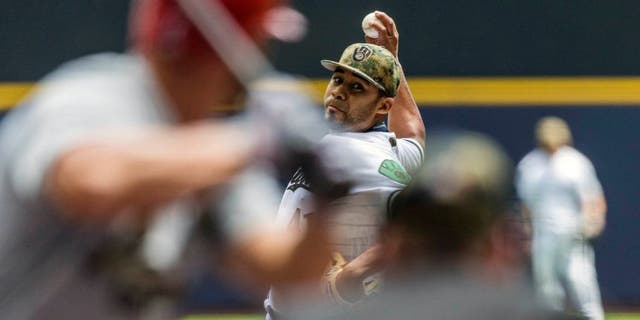 NEWYou can now listen to Fox News articles!
The initial transaction for Milwaukee Brewers general manager David Stearns came just a few weeks after he was on the job when he claimed pitcher Junior Guerra off waivers from the Chicago White Sox.
Not a bad first impression.
Guerra, who began the season at Triple-A Colorado Springs, has been one of the pleasant surprises on the Brewers and perhaps the team's most consistent starting pitcher. After Monday's 1-0 win over Washington and Max Scherezer, in which Guerra tossed 7 1/3 shutout innings, he is 6-1 with a 2.93 ERA, 1.017 WHIP and 7.9 strikeouts per nine innings. Not too shabby for a guy who had pitched in just four major-league innings prior to the 2016 season (and had allowed three runs on seven hits).
In each of his first two starts with Milwaukee, Guerra allowed four runs in six innings. Since then, he has made 10 starts and allowed more than four earned runs just once (5 in 5 1/3 innings against the Dodgers on June 16) and has a 2.37 ERA and .190 opponent batting average during that span.
And did we mention that Guerra is 31 years old?
Turns out, Guerra is having one of the best rookie seasons by a starting pitcher who is at least 31 years old . . . well, ever.
Yes, it is hard to compare eras with pitchers. There's the Deadball Era, pre-integration, expansion, the Year of the Pitcher in 1968, steroid era and so on. A 3.50 ERA is not equal throughout the years.
One of the best ways to compare, however, is using ERA+, which compares a pitcher's ERA to the league average while adjusting to the pitcher's ballpark. An ERA+ of 100 is right at the average for that season while a lower number is worse and the higher the better.
Since 1901 there have been 54 pitchers who were age 31 or older who made at least 12 starts in a season. Of those 54, only 11 have occurred since 1996 and the majority of those have been pitchers moving over from a Japanese league to the major leagues. Nine made their debut during World War II (1942-45) while 11 began their careers in the Deadball Era (pre-1920).
Among this criteria - pitchers who debuted at 31 or older and started 12 or more games - Junior Guerra is currently second all-time in ERA+.

Dave Heller is the author of the upcoming book Ken Williams: A Slugger in Ruth's Shadow as well as Facing Ted Williams Players from the Golden Age of Baseball Recall the Greatest Hitter Who Ever Lived and As Good As It Got: The 1944 St. Louis Browns