Stars choose to hang onto Richards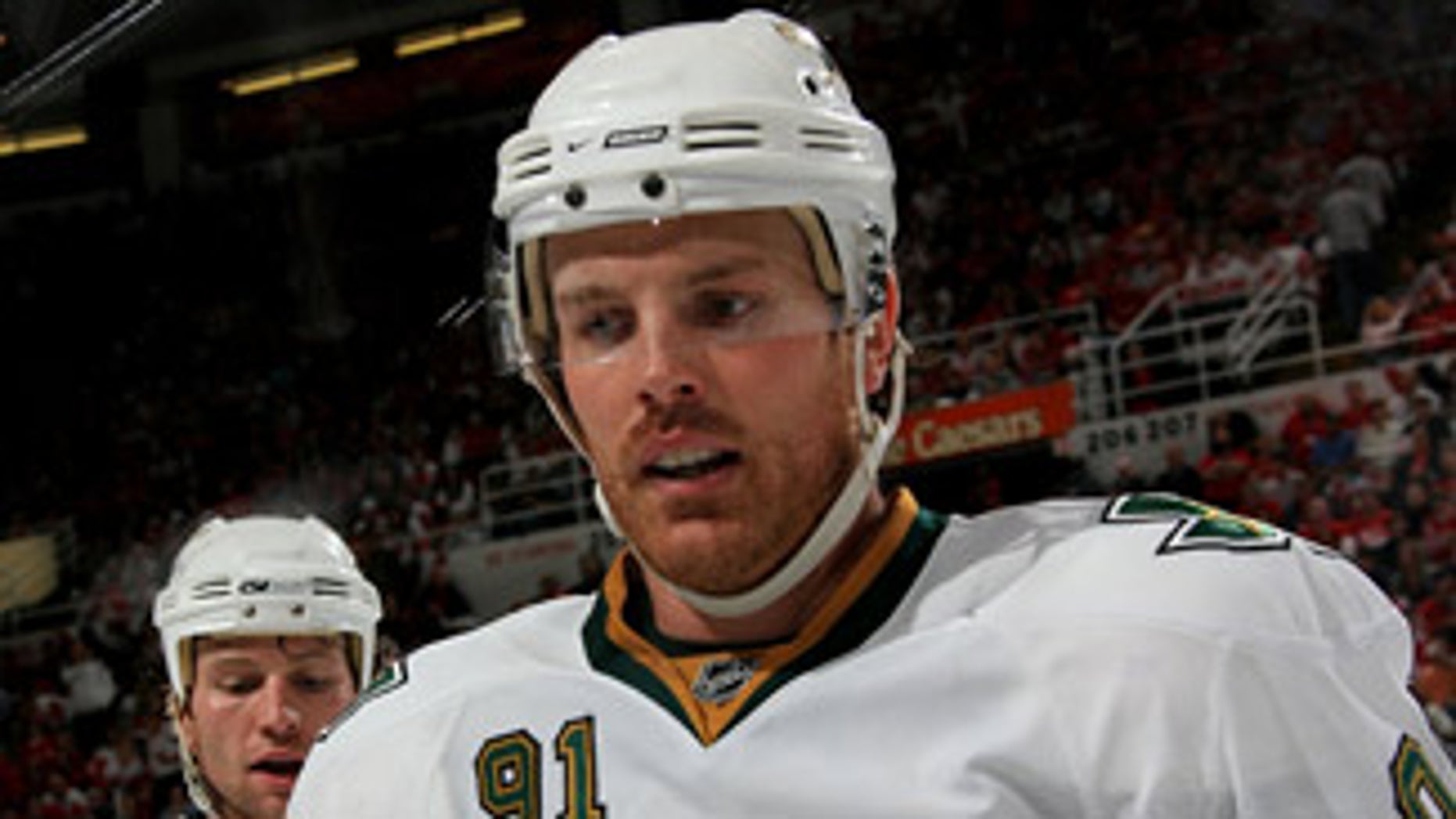 Dallas Stars center Brad Richards said he woke up Monday morning and went to work at the team's practice site in Frisco, Texas, the same way he would if it were any other day as he continues his rehabilitation from a concussion. And the plan Tuesday is to do the same thing.
Once 3 p.m. ET came and went, Richards could carve those plans into stone.
"Nothing happened today and I'm good with that," Stars General Manager Joe Nieuwendyk said. "I look at our team and I think we've played well lately and we're going to add Brad Richards and (defenseman) Nick Grossman (hip injury), so we're pleased.
Despite being one of the most talked about players in the days and hours leading to Monday's 3 p.m. ET trade deadline, the Dallas Stars decided to hold onto Richards and make a run at a playoff spot whenever the star center returns from the concussion that has sidelined him for more than two weeks.
That return could come as soon as Friday, when the Stars play in Anaheim. It'll be the second game of a four-game trip that starts Monday in Phoenix.
The Stars entered the week eighth in the Western Conference, but part of a four-team logjam for the final two playoff spots. However, with the team back in the playoff hunt after a dip earlier this month, Nieuwendyk couldn't bear to part with the player who leads his team in scoring with 63 points despite missing the last six games.
"In my mind I wasn't going to move him unless someone knocked our socks off with something we couldn't refuse," Nieuwendyk said. "We always said all along we wanted to sign Brad Richards and we want to sign Brad Richards to be a Dallas Star for a long period of time. We're just going to keep going the way we are and hopefully Brad will help us get to the playoffs like we expect him to."
Richards can become an unrestricted free agent this summer, and he has a no-trade clause in his current deal, so he controlled the situation. He said Monday morning that nothing he had seen or heard from Nieuwendyk had him changing his approach.
"I don't know what to expect," Richards told reporters early Monday. "Status quo for me. Woke up today and came to work and did what we planned on doing yesterday. My plan is to keep doing that. Nothing has been presented to me that is going to make any change in what I'm doing as a Dallas Star."
Nieuwendyk wouldn't comment on whether he had made any progress toward a new deal for Richards.
"He likes it here and we would like to have him so we'll see how it goes," Nieuwendyk said. "Those types of things are for down the road. Right now the focus is on the games we have to play here."
Richards said he never gave Nieuwendyk a list of teams that he would have waived his no-trade to clause to move to. 
"No list of teams," he said. "I don't believe in that. Doesn't make sense to me to do that. It's in Joe's hands. If he wants to do something, he'll do that."
At the end of the day, Nieuwendyk decided it was better to hold onto Richards and focus on getting into the playoffs.
"I get a kick out of watching all the media people, especially in Toronto, say who could use Brad Richards, and we could use him, too," Nieuwendyk said. "We're sitting in a playoff spot today, so it's not like we're sellers. We're trying to make the playoffs and make a run here ourselves."
Richards said he was ignoring all the off-ice issues surrounding him and only focusing on getting back on the ice. He hasn't played since leaving a Feb. 13 game against Columbus with the head injury.
He said he was pleased with Monday's session, however, which he called the most up-tempo of his workouts so far.
"This was the hardest I've went, and I pushed it a little bit at the end," he said. "The last four to five days I've been ramping it up a little bit. If I go home today and there's no big setbacks or no issues, I'll try a little more tomorrow. I'm very encouraged."
"We ramped it up a little bit, the big test will be this afternoon if I start feeling symptoms, and if not we'll ramp it up again tomorrow."
Nieuwendyk said he hopes to see Richards on the ice as soon as Friday's game in Anaheim. He said Richards would travel with the team, rather stay behind and continue working on his own, and then catch up with the team during a day off in Phoenix.
Contact Adam Kimelman at akimelman@nhl.com. Follow him on Twitter: @NHLAdamK