Spurs sail into All-Star Game break with easy win over Pistons – No. 1,001 for Popovich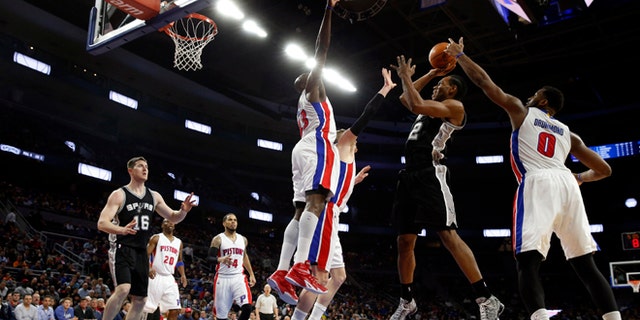 AUBURN HILLS, Mich. (AP) – With Gregg Popovich's 1,000th victory out of the way, San Antonio had one more game before the All-Star break.
The Spurs won it in routine fashion.
Danny Green scored 19 points and Tony Parker added 17, and San Antonio easily brushed aside the Detroit Pistons 104-87 on Wednesday night. Manu Ginobili added 13 points for the Spurs, who won this game amid little fanfare after Popovich reached his milestone two days earlier.
San Antonio has played three straight road games and won two. The Spurs play six more road games in a row after the break.
"Great way to finish," Parker said. "We wanted to do three for three, but couldn't hit a shot against Toronto. We'll take two and enjoy the break and make sure we're ready when we get back."
The Spurs held Detroit to 12 points in the first quarter and led comfortably through just about the entire second half.
"I don't usually give those guys a break after a loss, but we fought hard tonight. I thought we were just a step slow," Pistons coach Stan Van Gundy said. "They are tired right now. I don't know if we need six days, but we definitely need a break."
D.J. Augustin scored 22 points for the Pistons and Kentavious Caldwell-Pope added 20, but Detroit simply looked overmatched for most of the night. The Spurs led 48-39 at halftime and then went on a 16-7 run at the start of the third quarter.
Van Gundy said before the game he felt he'd contributed enough to Popovich's win total — he just didn't want to get the San Antonio coach started on his next 1,000 victories. Then, Popovich went out and earned win No. 1,001.
The Spurs defended the basket well, holding Detroit big men Andre Drummond and Greg Monroe to 7-of-20 shooting. The Pistons went 9 of 21 from 3-point range, but they finished below their season average of 25 attempts per game from beyond the arc.
The Spurs avenged a home loss to the Pistons last month. Detroit beat San Antonio 105-104 on Jan. 6 when Brandon Jennings made a last-second bank shot. Jennings is now out with an Achilles injury.
PULLING AWAY
One of Detroit's 3-pointers that went in was a heave from midcourt by John Lucas III at the end of the first half, but San Antonio answered that by making seven of its first eight shots in the third quarter.
The Spurs toyed with Detroit during that period, whipping the ball around impressively on offense and shooting 67 percent from the field. San Antonio had 10 assists in the third quarter and finished the game with 26.
"They are a great team and they've been at this for a long time. They move the ball as well as anyone in the game," Van Gundy said. "Every guy on that roster loves to pass, and they not only want to do it, they are skilled at it. It's one thing to be willing, but it is tough when they are willing and skilled."
PARKER'S HEALTH
Parker missed much of December with a hamstring strain, but Popovich said he's back to about 90 percent. Then the coach was asked if he expects Parker to do some conditioning over the break.
"No, he's just going to eat doughnuts the whole time," Popovich cracked.
Parker said he'll work with a physical therapist over the break.
TIP-INS
Spurs: Tim Duncan and Kawhi Leonard combined for two points on 0-of-10 shooting in the first half. They each finished with eight points.
Pistons: Caron Butler missed the game because of back spasms, and Cartier Martin was out with a sprained right ankle.
UP NEXT
Spurs: At the Los Angeles Clippers on Feb. 19.
Pistons: Host Chicago on Feb. 20.