Sprint Cup teams wrap up testing at Homestead-Miami Speedway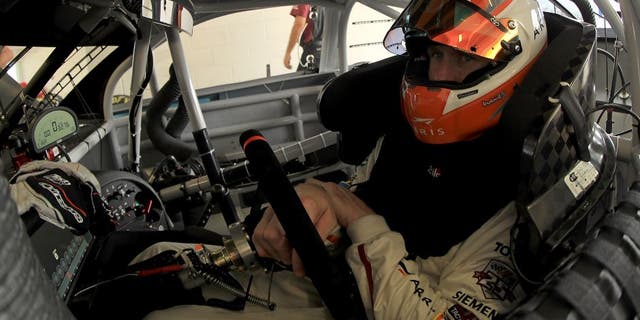 Ahead of Sunday's Hellmann's 500 at Talladega Superspeedway, eleven NASCAR Sprint Cup Series teams participated in a two-day test session at Homestead-Miami Speedway.
The 1.5-mile track play host to the season-ending Ford EcoBoost 400, which will determine which driver in the Chase final four will be the 2016 Sprint Cup champion.
Carl Edwards, Kurt Busch, Brad Keselowski, Chase Elliott and Austin Dillon were among the Chase drivers to take part in the test on Tuesday and Wednesday.
"At this place you drive into the corners and slide right up by the fence. I really feel like I'm driving a race car here. I was just telling my spotter it's a fun place to drive," said Edwards while at the test. "My dream is to be in that final four at Homestead-Miami Speedway, to win the race and to be the Sprint Cup Series champion."
Edwards heads to Talladega with a 24-point cushion over the Chase cutoff. The No. 19 Joe Gibbs Racing driver says there's "no room for error" this weekend.
"We have about a 20 to 25-point cushion which can be erased in an instant at Talladega, so right now the plan is to go there and win the race and leave no doubt," Edwards said. "So much can happen. That first lap could be a disaster, so you have to respect the place and respect the fact that any of the competitors in it can go out there and win the race."
If Keselowski wants to be one of the four drivers competing for a title at Homestead, he'll need to survive Talladega first. The 2012 Sprint Cup champion is seven points behind eighth-place in the Chase standings heading into Sunday's elimination race.
"There are worse places," Keselowski said, referring to his thoughts on Talladega being an elimination race. "I'm staying quiet and confident. If you have to talk about it then you have to sell yourself. I don't have to sell myself."
For Busch, if he's able to finish 16th or better at Talladega, he'll advance to the Round of 8, regardless of where the other Chase drivers finish.
"Last year, we came out of Kansas with a top-five finish and a 13-point cushion," Busch said. "This year, we have a 17-point cushion after finishing 13th. It's a numbers game, and we feel very comfortable where we sit."
And if Busch wants a shot to hoist the Sprint Cup championship on the stage at Homestead for the second time in his career, he knows staying out of trouble is key.
"Sixteenth or better is the same as sixth or better, or 36th or better, because you never know when you can get caught up in that 'Big One' and end up 36th or worse," he added. "It's nice to have points in our pocket. That's the best feeling."
Martin Truex Jr. and the No. 78 Furniture Row Racing team elected not to participate in the two-day test for a variety of reasons. He noted that dedicating time to other things besides testing at Homestead was more important.
"We're just trying to make sure we are focused on the right things," Truex said. "We feel like testing has not really done anything to help us along. We feel like our time is better spent at the shop getting prepared."
Other Sprint Cup drivers that participated in the test included Kyle Larson, Trevor Bayne, Ryan Blaney, David Ragan, Chris Buescher and Michael McDowell.