Spanish soccer star David Villa brings the sweet smell of success to new MLS team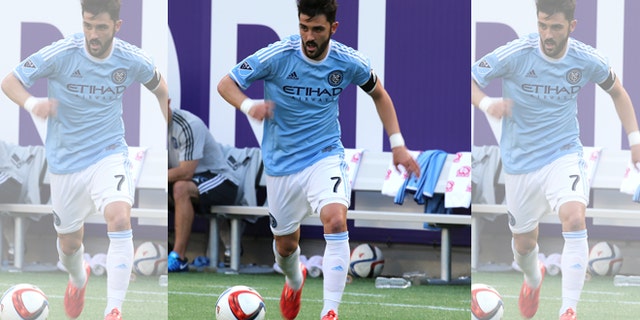 Bronx, N.Y. – He has been there and done that—winning a World Cup and not one, but two European Championships with Spain.
So there is very little that fazes David Villa as he embarks on his latest challenge as the captain of New York City FC.
Is there pressure being the captain of the Major League Soccer expansion team?
None whatsoever.
Does he have a problem with the winter-ravaged Yankee Stadium field where NYC FC will make its home debut against the New England Revolution on Sunday?
Nope. He and the team must adapt.
Villa is a professional, through and through.
His new teammate, defender Chris Wingert, said he has been impressed with "how great [Villa] has been with the guys in terms of being a leader and relating to some of these young guys and all of us."
"He has won everything you can possibility win," Wingert said. "He is one of the most accomplished players of all time. Trying to relate to guys who haven't experienced the same things that he has experienced has been really impressive."
He added, "I can't tell you how great he's been to everybody. The guys are feeding off that, because of how they look up to him."
Villa, 33, is the face of a franchise that hopes to capture the imagination of New York City soccer fans. But he wouldn't say there was any pressure on him.
"Definitely, it's a responsibility to be the captain of the team. It's a massive responsibility to be the image of the team and represent the rest of the squad," he said. "But I've always said the same thing on all of the teams I have been on, once a team signs you and they're paying your salary and you're wearing those colors, it's a massive responsibility."
The field at Yankee Stadium was in such disarray that the media was not allowed to look at it on NYC FC's media day on Wednesday. Even coach Jason Kreis didn't want to look at it.
"Obviously the pitch and the state of the field depends very much on the climate, and we have to adapt," Villa said. "Of course, if we have the best conditions that will be the best for the game, best for the people to enjoy the game."
With 59 strikes in 97 games, Villa is the all-time leading goal-scorer for La Furia Roja—or "The Red Fury," as the Spanish national team is known—but he is not expecting miracles from his new team, which started training just six weeks ago. At least, not right away.
"We have to be humble," he said. "It's a new club. We do have, however, a winning mentality, and that's how we face the new season. We have to take it step by step, but the winning mentality is there."
This certainly is a special time for soccer in the New York metropolitan area. NYC FC is the second MLS club here, joining the Red Bulls, who play in suburban Harrison, N.J. That sets up a much-needed derby rivalry for the city.
NYC FC will play the Red Bulls three times this season, with the first confrontation scheduled for May 10 at Red Bull Arena.
"It will be exciting to have this local derby against the Red Bulls," Villa said. "I'm sure a lot of fans will travel to the game ... I think it will be important for the city and create that local rivalry."
But he added, "It is not time to think Red Bulls."
There is a third franchise only 27 miles from Yankee Stadium in Hempstead, N.Y., where another Spanish icon, Villa's predecessor as Furia Roja scoring machine, Raúl, will try to work his magic for the New York Cosmos, the glamor team in the second-tier North American Soccer League.
The two players haven't spoken since Raúl signed with the Cosmos.
"I'm sure we will have the opportunity to talk and discuss what a great opportunity is for both of us," Villa said.
He did have some advice for his countryman. "Based on my experience in this city for the past 6 months, I would just tell him to enjoy it as much as I have been—to enjoy the experience, to enjoy this great city."
When Villa was asked whether Spanish players have asked him why he chose to come to America, he said, "Quite the opposite. There are players in Spain that are calling me to see if I can help them to come over here."
Now that would be a role reversal for Villa. On the pitch he is a lethal striker, a finisher. But off of it the Spanish superstar might become a vital link, a midfielder of sorts, helping his countrymen come to play in MLS.
Which shouldn't come as much of a surprise, since Villa sets the perfect example of what a professional soccer player should be.