Softball star Jessica Mendoza joins ESPN's 'Sunday Night Baseball' full-time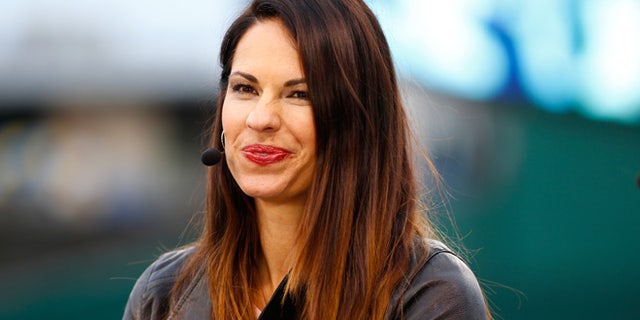 (AP) – Jessica Mendoza wonders what she'd be doing during the upcoming Major League Baseball season if not for some events out of her control.
The retired softball star was scheduled to call two Monday night MLB games late in 2015 for ESPN and hoped to get a regular gig this year, but figured she might need to wait longer for a slot to open up.
Instead, six days after her debut, she leapt onto the network's showcase platform of "Sunday Night Baseball" — and hasn't left since.
ESPN is announcing Wednesday that the 35-year-old Mendoza is now a permanent fixture in the Sunday prime-time booth. She'll join another new analyst, Aaron Boone, alongside returning play-by-play voice Dan Shulman.
They replace Curt Schilling, who moves to Monday, and John Kruk, who returns to "Baseball Tonight."
"It's just crazy when I look back, and literally less than six months ago I had no idea what was going to happen after the Monday night games," Mendoza says.
Just like that, she's the most prominent woman calling national games for a major men's sport — one of the few in the booth, not limited to sideline reporter. It's an ascension that seems to have happened blindingly fast, and yet it was also a slow and steady climb.
An Olympic gold medalist and the sport's premier hitter, Mendoza found herself needing a new career when softball was dropped from the Summer Games. The Stanford alum joined ESPN in 2007 and didn't give much thought to calling baseball until the following year, when Kruk took part in Women's College World Series coverage.
Mendoza saw how knowledge of one sport could translate to the other. Still, she acknowledged, historically there was just "one-way traffic" — her father, a baseball coach, would guide her softball teams, but a woman typically wouldn't instruct baseball players.
She later did some sideline reporting on men's sports and studio work for "Baseball Tonight." In June, Mendoza became the first female game analyst for a men's College World Series telecast.
Meeting with senior coordinating producer Phil Orlins in April, she was eager to work games but wary of seeming like a gimmick. Mendoza remembered watching in 2012 when former U.S. teammate Michele Smith appeared on a nationally televised MLB game on TBS and "feeling like she was a guest."
She dryly describes how she didn't want her male colleagues to promote her presence in the booth: "We have a female with us today, yay."
But Mendoza came away from that meeting confident ESPN was serious about her long-term prospects as an MLB game analyst. Not that she ever imagined a spot on "Sunday Night Baseball" could come anytime soon. She laughs in recalling that when she attended a Sunday night game early last season to observe the crew, she felt like a total groupie.
On Aug. 24, she called the Monday night matchup between the Cardinals and Diamondbacks. The next morning, Schilling posted then quickly deleted a tweet comparing Muslims to Nazis. ESPN pulled him from that Sunday's game and replace him with Mendoza.
She couldn't eat, couldn't sleep — squeezed by the pressure that her performance could sway whether other women received future opportunities to call men's sports.
"I knew even the smallest mistake, it felt like the world would come after me," Mendoza says.
As a player, she would visualize how a huge game would go, but "it's hard to do that when you've never done it." On the field, she would take confidence from her preparation, but now there wasn't time.
"I could have totally sucked," she says.
Yet while this was her first "Sunday Night Baseball" assignment, it was hardly her first live sporting event. As the pitchers started throwing and the batters swinging, she realized it was no different from the dozens of softball games she worked each season.
"You could feel the change in her comfort level inning by inning even in the first game," Shulman says.
The Cubs' Jake Arrieta made history that night by no-hitting the Dodgers. Mendoza made history after her debut earned rave reviews, sticking on Sunday night the rest of the season and becoming the first female analyst to call a nationally televised MLB playoff game when she worked the AL wild-card matchup.
John Wildhack, ESPN's executive vice president for programming and production, doesn't want to speculate about what kind of position Mendoza would've held in 2016 if not for Schilling's tweet. She was undoubtedly a big part of the network's long-term baseball plans before that, he adds, preferring to focus on how she managed the circumstances that were in her control.
"She seized the moment," he says.
As Wildhack talked to others in the industry about Mendoza's performance, he realized: "Wow, this was not just good. This was really, really, really good."
Boone adds that what he heard "from very smart people I respect is she said some things on games from an analysis standpoint that made them take note."
Still, there were occasions in those first couple of broadcasts that Mendoza hesitated before making a point, fearful of the repercussions of a misstep. The moment would pass and she'd never get in that observation.
That happened less and less by the wild-card round. The additional games, along with her studio work during the playoffs, also allowed her to introduce herself to players and managers around the batting cage and in the clubhouse.
She fondly remembers chatting with Royals star Eric Hosmer during the World Series, his bat in her hand, just two great hitters talking shop. Mendoza hopes that soon she'll no longer need to start each conversation explaining who she is, why she's there, and how she understands the intricacies of their swings.
"It just felt so good for the guys to see me as a peer and not just a female," she says.
And now with the benefit of a whole offseason, Mendoza has time for her beloved preparation. She expects to put together an Excel spreadsheet on each team.
Returning from the World Series, Mendoza happened to be on the same flight as "Monday Night Football" producer Jay Rothman. He showed her video clips that coach-turned-analyst Jon Gruden compiles and narrates for his colleagues to highlight areas he's focusing on.
Hoping to learn more, she shadowed the Monday night crew for three days before the Nov. 9 game between the Bears and Chargers in San Diego. Mendoza attended all the meetings, sat down with play-by-play announcer Mike Tirico for three hours, and peppered Gruden with questions about his routine. She wanted to know everything from the volume of his notes to where his eyes go during a play.
With her new role, Mendoza, who lives in California and has two young children, made one particular request: She'll still call the Women's College World Series.
She and Boone will be the fifth different analyst team in six seasons for "Sunday Night Baseball" since Jon Miller and Joe Morgan departed after 21 years in 2010 — partly because Bobby Valentine and Terry Francona each left the booth to return to managing.
The 42-year-old Boone, who joined ESPN in 2010 after playing a dozen seasons in the majors, moves up from the Monday night games. "Sunday Night Baseball" also gets a new producer in Andy Reichwald, who also comes over from Mondays, while Buster Olney returns as the reporter.
"If this team establishes themselves as we hope and we think they can," Wildhack said, "it will be terrific for us, terrific for 'Sunday Night Baseball' and terrific for the sport."
Like us on Facebook
Follow us on Twitter & Instagram