Soccer Round-Up: Higuain and Messi, Maradona Apology, CONCACAF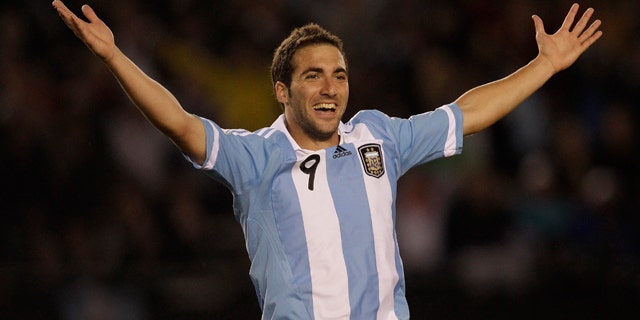 Not many players have lived the week Gonzalo Higuaín has lived, not after recording a hat-trick for his club and connecting for another three goals for his country.
The Argentine striker put home three goals in Real Madrid's 4-0 La Liga win at Espanyol last Sunday.
Only six days later, the 23-year-old Higuaín was at it again, but for another team -- the Argentine National Team, striking three times in a 4-1 triumph over Chile in a World Cup qualifier in Buenos Aires, Argentina. Higuaín also set up Lionel Messi's goal.
"You can say this was a perfect week," Higuain told newspaper AS. "I am very happy with how things have turned out. But more than happy with my goals, I am happy with Argentina's victory against a very tough opponent such as Chile."
Higuain will vie for a third consecutive hat-trick when Argentina plays at Venezuela on Tuesday.
"It was very good to get off on the right foot," Higuain added. "It was very important to begin the road to the World Cup with a victory, and doing it with this result was even better. We could have scored more goals, but we are very happy with our display. We have to continue like this to get what we want."
A Striker Goes on the Defensive
Speaking of talented forwards born in Argentina, Pablo Osvaldo defended himself about becoming an Italian citizen and playing for the Azzurri. He has been called up by Italy for the European Championship qualifiers. He could make his debut against Northern Ireland on Tuesday.
"I feel Italian," he told reporters. "My family are Argentine, but my wife and children are Italian and it was here that I grew up as a footballer. I'm more Italian than several of those who have made a big deal of me putting on the Italy shirt. I have already sung the anthem when I played for the Under-21s, it's not a problem for me to sing it. And I don't think it's a lack of respect for anyone. Rather, I think it will please the Italians."

SOUTH AMERICA
The long, World Cup qualifying marathon has begun for the nine South American teams trying to book a spot at Brazil 2014.

Uruguay Gets Off on the Right Foot

Copa America champions Uruguay, the favorites to finish atop the South American heap, registered a 4-2 win over Bolivia in Montevideo, Uruguay. Diego Lugano struck twice and Luis Suarez added Edinson Cavani single tallies. Diego Forlan, who needs another goal to become Uruguay's all-time goal-scoring leader, used a free kick to set up Lugano's first goal.

Ecuador's Clean Sheet at Home

Taking advantage of the thin air of Quito, Ecuador registered a 2-0 win over Venezuela, which finished a surprising fourth at Copa America. Jaime Ayovi (14th minute) and Christian Benitez (27th minute) tallied for the winners. Ecuador will face the United States in an international friendly at Red Bull Arena in Harrison, N.J. at 7 p.m. ET on Tuesday.

Peru Prevails on Guerrero's Brace

Paolo Guerrero scored twice in the second half to boost Peru to a 2-0 win over Paraguay in Lima, Peru.

Next on tap

Four games are scheduled for round two on Tuesday (home team listed first): Bolivia vs. Colombia, Paraguay vs. Uruguay, Chile vs. Peru and Venezuela vs. Argentina. The third and fourth rounds will take place on Nov. 11 and 15.

Brazil's headaches

While it does not have to worry about qualifying because it is the host of the 2014 competition, Brazil has found itself with more than enough headaches from its own media after its 1-0 friendly win over host Costa Rica (in San Jose), which failed to reach the 2010 competition in South Africa.

O Globo newspaper certainly was not too impressed. "Drowsy Brazil beat Costa Rica," the newspaper said. "Without playing well, Brazil beat Costa Rica 1-0 with a goal by Neymar after an hour of mediocre football in the rain."

Other papers joined in the chorus of criticism. Sports daily Lance said the soccer was "without imagination, without anything very interesting."
Brazilian coach Mano Menezes admitted the team wasn't at 100 percent efficiency.
"We didn't play at the highest level, but it wasn't for lack of trying. Although one goal isn't a lot, it was enough to get the victory," he told reporters.

The five-time World Cup champions will play at Mexico on Tuesday, without goalkeeper Julio Cesar, who has a left thigh muscle injury.

CONCACAF

The second round of CONCACAF qualifying continues Tuesday after Friday's games crystallized the picture a bit more.

Among the highlights:

* Mario Rodriguez scored in each half to lift Guatemala to a 3-0 Group E win over St. Vincent and the Grenadines in Kingstown, St. Vincent. Dwight Pezzarossi added another goal. If the Central Americans record a home win over Belize on Tuesday and Grenada and St. Vincent play to a tie, Guatemala will clinch a spot in the semifinals.

* El Salvador took a two-point lead over Suriname by recording a 2-1 victory over the Dominican Republic in San Crisbobal, Dominican Republic. Mark Blanco tallied in the 67th minute to break a 1-1 deadlock. Osael Romero's penalty kick gave the Salvadorans the lead, but Erick Ozuna equalized for the Dominicans. The hosts played the final 56 minutes a man down after Ernesto Jimenez was red-carded. On Tuesday, El Salvador hosts the Cayman Islands while the Dominicans visit Suriname.

* Panama rolled to a 5-0 Group C victory over Dominica in Roseau, Dominica as Amir Waithe struck for a brace twice Luis Tejada found the back of the net for the second consecutive match for the group leaders. Blas Pérez also scored. The Panamanians can book a spot in the semifinals with a home win over Nicaragua on Tuesday.

* Ian Lake tallied for the second time in two matches, equalizing in the 59th minute to boost St. Kitts & Nevis to a 1-1 Group D draw with Puerto Rico in Bayamón, Puerto Rico. Andrés Cabrero had given the Puerto Ricans a the lead in the 37th minute.

Maradona's Apology

Now, here's a rarity, the ever-confident, the ever-cocky Diego Maradona apologized to the fans of United Arab Emirates club Al-Wasl after his team lost to Dubai, 5-0.

"I want to apologize to the Al-Wasl supporters for this defeat," Maradona told reporters. "I am very sad. We were on the right path with two successive victories and now we must focus on the championship and not look back. I hope that this defeat will not affect the morale of the squad who must learn lessons from this defeat."

It will be interesting to see what happens if Al-Wasl falls again or loses big time.

Michael Lewis, who has covered international soccer for three decades, can be reached at SoccerWriter516@aol.com.
Follow us on twitter.com/foxnewslatino
Like us at facebook.com/foxnewslatino