Soccer Round-Up: Dos Santos' Tottenham Adios? Inter Milan's Latino Eight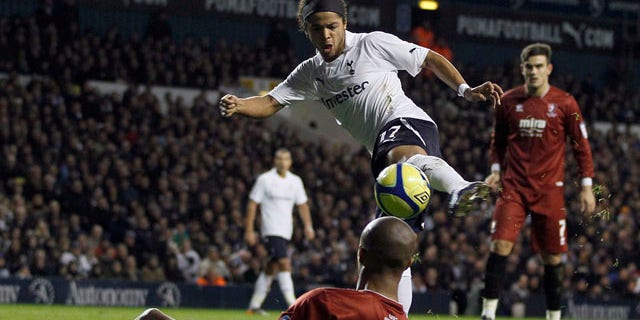 Even a stellar performance by Giovani dos Santos might not save his Tottenham Hotspur career.
He made the most of a rare start for the English Premier League side in the F.A. Cup third-round encounter against Cheltenham at White Hart Lane in London. The Mexican international scored one goal and helped set up two others for the Spurs in their 3-0 victory.
However, it could be the last start or even the last time he plays for the North London side.
That's because Tottenham manager Harry Redknapp said Santos could be transferred to another team this month. The winter transfer window opened on Jan. 1.
The 22-year-old dos Santos turned down a transfer to Udinese of Italy's Serie A during the summer transfer window.
Dos Santos is a finalist for a FIFA Puskas award for goal of the year, which will be awarded in Zurich, Switzerland on Monday. He scored that goal against the U.S. in a 4-2 triumph in the CONCACAF Gold Cup final on June 25.
But that was then, and this is now. Redknapp has questioned dos Santos' attitude.
"He's got talent but has to work harder in training and get fitter," he was quoted by Agence-France Presse. "When he does that, he has a chance. He has had a real opportunity to play here if he's at it, but there are lots of good players here.
"He's looking to move to be honest. We had a move last summer, but he didn't want to go to Italy, he wanted to go to Spain. We'll see what happens in this window. I think he'll probably move if we get the right offer, but we have to get the right offer.
Dos Santos certainly showcased his talents in the game.
He helped set up the first goal by Jermain Defoe in the 23rd minute. Nico Kranjcar sent a pass to dos Santos on the left side. The Mexican lifted the ball over goalkeeper Scott Brown. As the ball was heading toward the net, Defoe slotted it home.
Dos Santos was in the middle of things late in the opening half. This time Roman Pavlyuchenko and dos Santos produced some nice moves before the ball found Defoe in the penalty area. Defoe's cross was tapped home by Pavlyuchenko from six yards for a 2-0 advantage.
The Mexican almost made it 3-0 in the 54th minute. Kranjcar's effort was saved by Brown and he powered a shot off the rebound that was blocked by Sido Jombati.
Dos Santos put the finishing touches on the victory in the 87th minute. Danny Rose sent the ball to dos Santos, whose shot deflected off defender Steven Elliott and looped over Brown and into the net.
England
Javier Hernández, Sergio Aguero
Chicharito started Manchester United's English F.A. Cup match against archrival Manchester City on the bench on Sunday. He ended the confrontation still sitting the pine as United recorded a 3-2 third-round victory at Etihad Stadium. After grabbing a 3-0 halftime advantage, ManU did not need Chicharito's scoring prowess, although City made it interesting with a pair of second-half goals.
The Argentine Sergio Aguero scored Manchester City's second goal. Aguero found pay dirt in the 65th minute, converting a mistake by United sub Paul Scholes. Scholes had come out of retirement because of a United's current injury problems.
In Sunday's fourth-round draw, United will play at Liverpool on Jan. 28-29.
Jonas Gutierrez
It certainly was better very late than never for the Argentine midfielder, who struck for the winning goal in the fifth minute of added time to lift Newcastle United to a 2-1 win over Blackburn Rovers in an EPL clash in the FA Cup.
Juan Mata
The Spaniard scored his sixth goal for Chelsea early in the second half of its 4-0 F.A. Cup win over underdog Portsmouth at Stamford Bridge.
Bryan Ruíz
The Costa Rican international wound up a part of all four goals for Fulham in its 4-0 romp over Charlton Athletic in the English F.A. Cup third-round encounter at Craven Cottage. American Clint Dempsey was the star, scoring in the eighth, 61st and 81st minutes for the English Premier League side at Craven Cottage. But Ruíz certainly made his mark in the match.
His most memorable assist came in the 61st minute when he and Dempsey exchanged passes before the U.S. international midfielder chipped the ball over goalkeeper John Sullivan. Ruíz was taken down by Sullivan on the edge of the goalkeeper's box in the 81st minute, Dempsey completed his hat-trick by converting the ensuing penalty kick.
Ruíz drove Charlton crazy with his penetrating runs. "I'm very happy with my play," he told the website. "I assisted Clint and won a penalty and I'm fit and I'm enjoying playing here. It was a very good match to win and to score four goals is very good for our confidence.
The game capped a memorable week for Ruíz, who created the equalizer for Fulham in its 2-1 comeback victory over London rival Arsenal last Monday.
Italy
Diego Milito, Ricardo Alvarez, Javier Zanetti
Eight certainly was enough for Inter Milan, which used eight South American players in its starting XI en route to a 5-0 rout of Parma in Serie A. Milito, an Argentine, led the assault with a pair of goals (13th and 41st minutes). Milito, who had been criticized for missing several relatively easy chances earlier this season, as he put home a side-footed shot off a cross by Argentinean Alvarez, who reportedly had his best game since joining the club last summer. Milito helped set up the second goal in the 18th minute as dribbled into the penalty area. The ball was cleared, but Thiago Motta scored from 20 yards. He added his second in the 41st minute, heading home Maicon'ws cross from 12 yards. Milito wasn't finished as he dribbled through the defense before sending a through-ball to Giampaolo Pazzini, who scored. Late in the match, yet another Argentine, midfielder Zanetti, appeared to have scored an own goal for Parma, but the score was disallowed because a Parma player was offside.
For the record, this was Inter's lineup:
Goalkeeper -- Júlio César (Brazil)
Defenders -- Walter Samuel (Argentina), Lucio (Brazil), Yuto Nagatomo (Japan), Maicon (Brazil).
Midfielders -- Esteban Cambiasso (Argentina), Thiago Motta (Italy), Ricardo Alvarez (Argentina), Javier Zanetti (Argentina).
Forwards -- Diego Milito (Argentina), Giampaolo Pazzini (Italy).
Joaquin Larrivey, Victor Ibarbo
Larrivey, an Argentine, gave Cagliari the lead with a penalty kick in the 13th minute. Ibarbo, a Colombian, added a goal in the second half en route to a 3-0 romp over Genoa.
Edinson Cavani
The Uruguayan scored for Napoli against his former team Palmero en route to a 3-1 away triumph. Cavani, who played three seasons for Palermo, declined to celebrate his goal, perhaps out of respect for his former side, but the spectators cheered his score.
Pablo Osvaldo
Osvaldo, an Argentine native who is an Italian international, will be sidelined for two months from Roma with a pulled hamstring. Osvaldo, Roma's leading goal-scorer this season, could miss as many as nine league games, including a vital match vs. Inter next month. He could be back for the Rome derby vs. Lazio on March 4.
Scotland
Emilio Izaguirre
The Honduran international defender made his first start for Celtic FC in its 3-0 Scottish Cup fourth-round victory over Peterhead on Sunday since breaking his ankle in August. Izaguirre helped set up the Hoops' second goal in the 57th minute at Balmoor Stadium. Izaguirre worked the ball to Stokes inside the penalty area as striker Anthony Stokes sent a shot into the far corner. On Jan. 2, Izaguirre made his first appearance for Celtic in nearly five months in the team's 3-0 Scottish Premier League win at Dunfermline last Monday. The Honduran replaced Victor Wanyama in the 79th minute at East End Park as Celtic won for the 10th consecutive time in the league.
France
Diego Lugano, Javier Pastore
Lugano, a Uruguay defender, could not have timed his winning goal any better in Carlo Ancelotti's debut as coach as he headed the ball in with 30 seconds remaining in stoppage time to boost Paris St-Germain a a 2-1 win over non-league team Locmine in the French Cup. A loss would have been quite embarrassing for PSG, which spent $116 million on new players this season, against a team that has an annual budget of $343,000.
Pastore, an Argentine who cost PSG a French transfer record $60 million, was a non-factor in the opening half, but he scored in the 53rd minute. Pastore could have had more goals. He hit the crossbar later after he rounded the goalkeeper. In the 70th minute, he fired a shot into the side-netting even though he had two teammates open in the penalty area.
Lisandro López
The Argentine striker recorded a a rare first-half hat-trick to power Lyon past non-league Lyon-Duchere, 3-1. López has 10 goals in all competitions this season.
Spain
Marco Ruben, Gonzálo Rodríguez
Ruben, an Argentine forward, struck for the first goal for Villarreal in the 14th in its 2-2 tie against visiting Valencia. Ruben connected after a fine one-two combination with forward Nilmar left him free in the area. Only four minutes later, Rodriguez, an Argentine defender, added a goal. However, Valencia rallied for two consecutive goals to spoil coach Jose Molina's Villarreal debut.
Gonzálo Higuaín
Despite the creative Argentine Angel Di Maria out with an injury, Real Madrid was difficult to stop in its 5-1 demolition of Granada at the Bernabeu. His countryman, Higuain secured a key goal early in the second half to give Real Madrid some breathing room at 3-1. Real leads Barcelona by five points.
Andrés Guardado
Guardado struck for his team-high eighth goal of the season to help Deporitvo La Coruña to a 2-1 victory over Deportivo Xeréz in the Spanish Second Division. Though reports have Guardado agreeing to sign for Valencia in La Liga for the 2012-13 season, the Mexican international midfielder played with commitment for Deporitvo La Coruña. In fact, this the 25-year-old Guardado's best season since joining Deportivo in 2007.
After a sixth-minute own goal gave Deportivo the lead, Guardado struck in the 22nd minute. Alejandro Campano cut the lead in half in the 45th minute, but Coruna held off their foes the rest of the way. Deportivo (36 points) remained in third place behind Valladolid (38) and Elche (37.
Bernardo Espinosa
Espinosa tallied in first-half stoppage time to give Racing Santander a 1-0 victory over last-place Zaragoza. The Colombian headed a corner kick by Papalouly Diop past goalkeeper Roberto Jimenez at the near post. Racing extended its unbeaten streak to four games since Héctor Cuper was replaced as coach as the team moved out of the relegation zone for the first time in three months. The club has three caretaker coaches, which is virtually unheard of -- Juan José González, Fede Castaños and Pablo Pinillos.
Nicolas Fedor
In a frustrating scoreless draw between Bilboa and Getafe, the Venezuelan had the best scoring opportunity for both teams as Getafe player sent a header off the woodwork.
Roque Santa Cruz
The Paraguayan striker tallied in the first half to help Real Betis to its third successive win, a 2-0 triumph over nine-man Sporting Gijon.
Greece
Sebastian Leto
The Argentine connected for his league-leading 15th goal to lift Panathinaikos to a 1-0 home victory over Kerkyra. Panathinaikos has two games in hand on defending champion and first-place Olympiakos, which played a scoreless tie at cellar-dwellers Drama.
United States
Milovan Mirosevic, Olman Vargas
The Columbus Crew signed Chilean attacking midfielder Milovan Mirosevic and Costa Rica forward Olman Vargas to a multi-year contracts, pending receipt of their P-1 work visas.
Mirosevic, 31, joins the Crew from Universidad Católica of the Chilean first division, where he served as captain and scored 46 goals in 108 games the last three seasons. "Milo brings a lot of quality and experience," Crew coach Robert Warzycha said. "He has represented his country, captained his club, been a top scorer in the Chilean league and played in important matches. He is a good passer, very technical, has good speed and can shoot from distance. We are very happy to be able to incorporate him into our attack."
Vargas, 26, most recently performed for Club Sport Herediano of the Costa Rican First Division, where he scored 17 goals over the past two seasons and helped the team reach the final of the 2011 Apertura season. "Olman is a tall, physical forward who promises to be a great addition to our club," Warzycha said. "He has good speed, a good touch and he works extremely hard."
Blas Pérez, Hernán Petrúz

Panamanian striker Blas Pérez and Colombian central defender Hernán Petrúz will play for FC Dallas this Major League Soccer season.
Pérez, who turns 31 on Feb. 13, scored 19 goals in 23 starts during his last full season with Leon of the Mexican Second Division. The Panamanian enjoyed a strong showing at the 2011 CONCACAF Gold Cup. He scored Panama's first goal of the tournament 29 minutes into its 3-2 victory over Guadeloupe. "Blas is a player we always had on our radar," Dallas coach Schellas Hyndman said. "We are extremely happy we found a way to bring him to MLS to play for FC Dallas. Pérez is a tremendous striker that continues to score goals everywhere he goes. We expect him to bring that finishing ability to FC Dallas."
Petrúz, who will turn 23 on March 31, scored one goal this season with Independiente Medellí (Colombia). "Pertúz is a solid center back that has captained the Colombian U-23 National Team," Hyndman said. "He is a player that will bring us the balance we need on our team and provide us with another strong defender in this position."
Fabrizio Pittaluga
Pittaluga, a Peruvian-born, Miami-based midfielder, was announced as the winner of the Chicago Fire's open tryout. He traveled more 1,300 miles and finished first among 160 contestants. Pittaluga will join the Fire for the first phase of preseason training camp in Ave Maria, Fla. on Jan. 20. "Like any soccer player, this has always been my dream," Pittalluga said. "The dream of playing, the possibility of earning a contract and getting to do it with a team in the country I've grown up in. It's a very surreal feeling and I'm really looking forward to the first day."

Michael Lewis, who has covered international soccer for more than three decades, can be reached at SoccerWriter516@aol.com.
Follow us on twitter.com/foxnewslatino
Like us at facebook.com/foxnewslatino