Sister Jean Schmidt, 98, sees Loyola-Chicago win first NCAA Tournament game in 33 years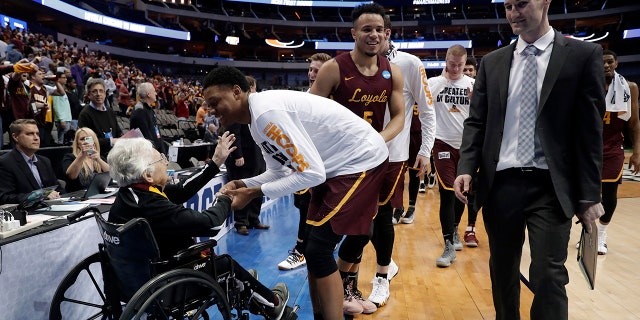 Sister Jean Dolores Schmidt was on hand Thursday as her beloved Loyola-Chicago men's basketball team upset Miami in the school's first NCAA Tournament game in 33 years.
Schmidt, 98, is the team chaplain who prays with players before games and gives them scouting reports the next day. She got to see Donte Ingram hit a last-second three-point shot to win.
"Thank God," she said in an interview after the game. "Thank God you did it because we knew we would do it. And when we were in the locker room ahead of the game, we just knew that we would do this. Our team is so great, and they don't care who makes the points, as long as we win the game. And I said, 'We're gonna get the big W up there,' and we did."
Schmidt is set to lead the pregame prayer again Saturday as Loyola-Chicago plays Tennessee. The Ramblers reached the Sweet 16 in 1985 before losing to Patrick Ewing and Georgetown.
Schmidt, who has served as the team's chaplain since the early 1990s, is an institution at home games. However, she suffered a hip injury early in the season and was forced to miss some games.
"Where I was for rehab, I couldn't get the picture so I watched play-by-play for every game I missed," she said.
Ingram's shot wasn't exactly a Hail Mary, but it was from the March Madness logo several feet behind the 3-point line. The Ramblers will choose to believe Schmidt had something to do with it going in.
"For her to be doing what she's doing at her age, it's amazing, and it's inspiring," guard Clayton Custer said. "And I think, I mean, I think her prayers definitely mean a little bit extra when she prays for us."
The Ramblers get at least one more pregame prayer this season.
The Associated Press contributed to this report.