Should Buckeyes be in BCS debate?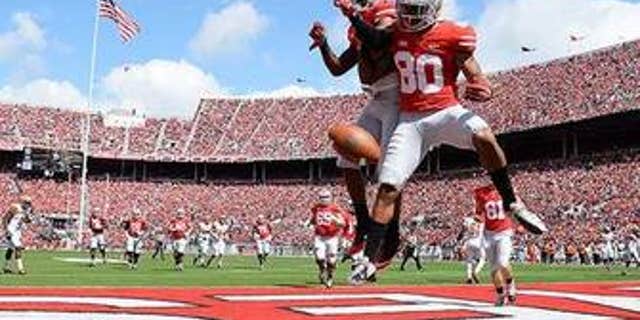 For all that's good about Ohio State football in 2013 - a dynamic quarterback, an experienced offensive line, Ryan Shazier anchoring the linebacker unit, potential first-round CB Bradley Roby in the secondary, a deep backfield, an all-world coach - there's a jab not even the quickest Buckeye defender can deflect: OSU's schedule is quite poor.
Scarlet cynics like to point this out, because it's the last remaining defense against the seemingly inevitable: an undefeated season and trip to the BCS national championship for the Buckeyes.
It's not just the cynics, though. There need be no agenda against Ohio State to hoist this claim, because the claim carries obvious merit. OSU has one of the worst schedules among national title contenders, or any school from one of the big five conferences (SEC, Pac-12, Big 12, ACC, Big Ten) for that matter. Pick whatever metric or method you prefer, and you'll reach this same conclusion.
According to Football Outsiders' Brian Fremeau's strength of schedule (SOS) ratings, which can be found here , the Buckeyes rank 73rd in SOS at .353 (meaning, an "elite" team this season would have a 35.3 percent chance of going undefeated against that schedule).
Because it's undeniable that Ohio State possesses a considerable amount of talent and plays considerably awful competition, a nagging dilemma exists at the intersection of these two absolutes: If Ohio State goes undefeated, should it be considered for a BCS title berth when there seemingly will be a handful of equal or better options?
The chorus of voices debating this has become the underlying soundtrack to Ohio State's season. Most of us - non-Ohio State fans, that is - want to say no, because we believe challenging schedules should be held with the same care as precious possessions. "If you can't play a strong schedule, then you can't play in the national championship!" we want to roar in unison.
That's fair. We're allowed to take that position and create our own theoretical world, just as Buckeye fans are allowed to laugh their way to 12-0. But if that's our choice, then there's some burdensome context we must, at the very least, acknowledge.
If SOS is the BCS' true pendulum, how come it hardly swings both ways?
I'm going to stick with Fremeau's SOS intel to provide some even-keeled clarity. In a divisive debate such as this, it's the only way to find something of an objective middle ground between the "QUIT WITH YOUR SEC BIAS!" screams from the north and the "Ha, ha, but Paaawwwwwwl, I bet they can't even beat the Vols!" serenades out of the South.
If we argue an undefeated Ohio State should, unquestionably, be knocked back because of its SOS, then we're conceding SOS is the most important factor in a BCS discussion.
We're not saying it's the only factor, just the most important (otherwise we'd admit there's a scenario in which OSU shouldn't be knocked back because of SOS). Ideally, we'd find the optimal balance between win-loss record and schedule strength when determining the "most worthy" BCS candidates.
So if we accept the premise that SOS is the most potent ingredient, then we must ask: Why aren't more teams with impressive-but-not-perfect records against difficult schedules bumped above teams with better records against weaker schedules?
In 2012, LSU went 10-2 in the regular season against the nation's third-toughest schedule (.048 rating) and didn't make a BCS bowl. Hindsight analysis might deem that justified after the Tigers went to the Chick-fil-A Bowl and lost to Clemson, but that knowledge was nonexistent, and otherwise irrelevant, at the time of picking the bowl field.
In our theoretical world primarily influenced by SOS, the Tigers would have been a better choice than Louisville in the Sugar Bowl, a better choice than Northern Illinois in the Orange Bowl, at least as good a choice as Oregon in the Fiesta Bowl (the Ducks had one fewer loss but also ranked 35th in SOS) and a far better choice than Wisconsin in the Rose Bowl (yes, I'm aware of automatic bids, which speaks to a problematic part of this that we'll address).
OK, forget LSU and the countless examples like it through the BCS era. What about last season's national champion, Alabama? The Crimson Tide smoked Notre Dame in the national title game and finished the season 13-1 against the 31st-toughest schedule (.100 rating).
By our working definition of the "most worthy" BCS candidates - the best balance of W-L record and SOS - couldn't you argue that Florida, in our theoretical world, was more worthy of playing in the title game than Bama? At the time of choosing - before Florida lost to Louisville in the Sugar Bowl - the Gators were 11-1 and had played the 11th-toughest schedule in the country.
Why didn't the Gators go to the BCS title game then? That's simple, and it renders our theoretical, SOS-driven world somewhat moot.
In the actual BCS world, it's the system that's king
Florida, of course, didn't go to the national championship game last year because of the divisional structure. The Gators' one regular-season loss was to Georgia, which prevented them from advancing through the East to the SEC title game.
Alabama came through the West and beat UGA in the SEC title game, thus earning the title of "champion of college football's best conference," which comes with a title game berth. (And rightfully so, I think. A college football season is much too short and volatile to gauge a team's true talent level, but that's how it works; each season is its own vacuum.)
If divisions contort the BCS landscape, so do the silly automatic bids handed out in the Rose (Pac-12, Big Ten), Sugar (SEC), Orange (ACC) and Fiesta (Big 12).
This further prevents us from finding the "most worthy" BCS candidates and underlines our root problem: The BCS was never about putting the most worthy (defined by a combination of record and SOS) candidates together; it's about making the chicken salad out of a system that's fundamentally compromised.
In a compromised system, then, the perception of a strong schedule is what matters
What matters in strength of schedule arguments is how glossy a slate looks from the top down, not how truly rugged it is if examined from the bottom up.
For instance, Miami is currently ranked No. 14 in the AP top 25 and is 4-0 for the first time since 2004. Everyone is hoping 'The U' can get into the top 10 and contend for a national title, bringing back those old glorious Hurricane days of the '80s and '90s.
Let's say Miami runs the table and is 12-0 after the regular season. We would consider Miami a respectable choice for the national championship. If the Canes improved to 13-0 after the ACC title game, it's hard to envision them not playing for the BCS title unless there was an undefeated team from both the SEC and Pac-12.
Miami's case would look good from the top: The champion of a good conference (Clemson's national relevance is a strong part of that, and Maryland's improvement is helping more by the week) with two very impressive wins over Florida and Florida State.
Here's the view from the bottom up: The Hurricanes rank 83rd in SOS (.419 rating), or 10 spots worse than Ohio State. The wins over UF and FSU would overlook the fact that Miami avoids Clemson and surging Maryland. It's third-toughest game would be what? Home against Georgia Tech? At North Carolina on a Thursday night?
Those aforementioned Terrapins occupy a similar position. If they somehow ran the table, we wouldn't automatically knock them back with a schedule-based argument, because they would have beaten Clemson at home and Florida State on the road. Their win against West Virginia looks a little better after WVU beat No. 11 Oklahoma State last week.
Well, Maryland ranks 72nd in SOS (.344 rating), one spot better than Ohio State. It avoids Miami and has no tougher non-conference opponent than WVU. But both Maryland and Miami (potentially) have a couple sexy wins at the top of their schedules plus the anecdotal evidence that they come from a strong conference. The fact they don't play every strong team in that conference doesn't much matter. The perception of surviving a strong league at the end of the year pays dividends.
Ohio State is currently failing on both of these fronts.
So, should Ohio State be in the BCS title discussion?
The Buckeyes are hurt by the idea of the Big Ten being down this season, which is valid. I do think it's a little early, though, to say Ohio State won't have any impressive wins on its schedule.
It's merely conjecture to argue that the Bucks will or won't, but let's take a quick look.
They have No. 16 Northwestern this weekend. It's possible the Wildcats lose this game and still end the season ranked in the top 25, maybe a little better. For as poorly as Michigan has looked at times, the Wolverines are still 4-0 and ranked No. 19. If they play to their talent level, it's not difficult to envision them finishing the season ranked in the top 20. Wisconsin was No. 23 last week before losing to Ohio State - could the Badgers rebound to end the season in the top 25? I think that's reasonable, considering their schedule is fairly soft in the second half.
Would an undefeated Ohio State with two wins against top-20 teams and a third win against a top-25 team at season's end be an embarrassingly egregious choice to play in the BCS title game?
Eh, I don't think so. It seems that Ohio State's on-field talent is legitimate and it probably could compete with other elite teams.
For the sake of taking a stance, I would not choose an undefeated Ohio State over a one-loss SEC or a one-loss Pac-12 team for the BCS title game; again, our goal should be to find the best balance of W-L record and SOS and grant those teams the opportunity to play for the title.
But does this mean sending Ohio State to the title game would be some travesty? No, not given college football's current climate.
To argue the Buckeyes should be eliminated today from the BCS title discussion based solely on the grounds of their SOS is a bit disingenuous. It claims we can't let the postseason be compromised by weak schedules while ignoring all of the other ways the BCS system is currently compromised.
A crack in the system is a crack. To argue legitimacy levels of the method by which it appeared does none of us much good.