Short Hops: Braves right field review/preview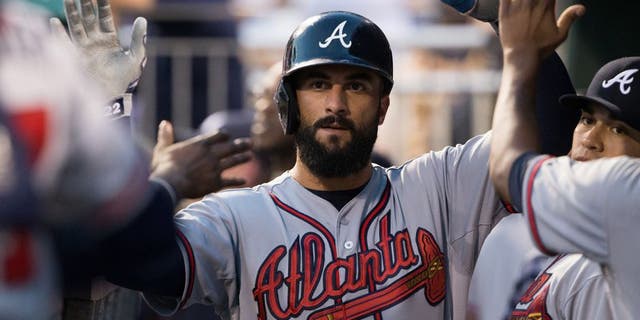 FOXSportsSouth.com's team of Braves writers are taking a look back at 2015, position by position, and breaking down what we know heading into what figures to be another busy offseason. Next up, right field.
STATS THAT MATTER
3: Only three MLB players received at least 650 plate appearances and hit fewer than five home runs -- Dee Gordon, Alcides Escobar and Nick Markakis. The last time an outfielder provided such little power in that many opportunities? Michael Bourn in 2011.
19: Markakis was one of only 19 qualified players to post a .370 on-base percentage or higher. His .398 OBP against righties was the 10th-best mark in the majors, right behind Andrew McCutchen.
81: The assumption that the Braves replaced one Gold Glove right fielder with another was flawed from the outset, but just a quick recap: In the past three seasons, former Braves star Jason Heyward has saved 81 runs more than Markakis, who is a net negative over that span.
THREE KEY QUESTIONS
1. Can Nick Markakis' first season in Atlanta be considered successful?
There is no definitive boundary of success. The line moves for each player to account for a long list of factors -- statistics, experience, prime, salary, expectations, etc. -- and, in cases like Markakis, it can move based on evaluator.
The veteran's numbers (.296/.370/.376, three homers, 1.6 WAR) warranted every plate appearance he received for the lowest-scoring lineup in baseball, as he was one of only three regulars to even hit above league average. He finished as one of MLB's top on-base threats and never let the offense's slumps get in the way of his singles-hitting rampage. In the aftermath of offseason neck surgery, Markakis was the healthiest starter on the team -- only 10 other MLB players logged more plate appearances.
The problem for Markakis was that he wasn't an upgrade in right field.
Atlanta featured an outfielder with light power numbers for the previous five seasons, the only difference being that Heyward was great-to-spectacular in nearly every other phase of the game. Markakis is not. Heyward hits for more power and gets on-base at nearly the exact same rate, but considering he also adds an elite glove, high-quality speed on the basepaths and the fact that he's five years younger, Markakis never had a fair chance to replicate what the Braves traded away. And while it might be an unfair comparison to the player, it's a necessary part of evaluating what the franchise has done at the position.
(Side note: If the Braves were willing to give Markakis $11 million annually, Heyward would have been well worth the projected $20-25 million annual salary he's going to fetch in free agency. Comparing wins above replacement over the past three seasons, the 26-year-old has offered at least three times as much value. Passing over him in the extension spree of 2014 still looks like a mistake.)
So defining success for Markakis is multifaceted. If the Braves sought a competent top-of-the-lineup bat against both lefties and righties, they got it. If they wanted a consistent veteran presence and an everyday option to rely on in right field, they got it. If the expectations were any higher than that, though, they were likely misplaced. Markakis was a useful addition given the offseason's circumstances, but he's not the all-around star that his predecessor was.
At $11 million in 2015, the Braves got what they paid for. Markakis was neither under- or overvalued in the first year of his contract -- the question, as with all long-term deals handed down to veterans, is what this deal will look like on the back end.
2. Will a fully healthy offseason help?
This is an underrated factor in Markakis' powerless season: He wasn't able to work out or lift weights in the offseason. After undergoing surgery to repair a herniated disc just two weeks after signing with the club, the Braves outfielder was severely limited, as one would expect following neck surgery. His offseason did not include running or weight-lifting, and he was forced to play catch-up at spring training.
Essentially, Markakis was behind schedule and not in peak physical condition when he hit .296/.370/.376 with three home runs. So, from an optimistic perspective, there's room for Markakis to improve, especially considering that he hit 10 or more home runs in each of his previous nine seasons.
His 20-homer seasons are behind him, but if his strength returns there could be a spike in his slugging.
Markakis posted a career-low .080 in isolated power, but in eight of his previous nine seasons that mark was .111 or higher -- the difference in turning quite a few of those singles into extra-base hits. Unless he's changed his approach for good under hitting coach Kevin Seitzer, double-digit home runs might be an attainable goal with a healthy offseason.
3. Is a position change possible?
The Braves graded out as the third-worst defensive outfield in baseball this past season. Their negative-27 defensive runs saved was the lowest score of any Atlanta outfield since the statistic started being tracked in 2003.
Not all of this falls on Markakis, of course. Cameron Maybin had a difficult year in center field while the left-field platoon of Jonny Gomes, Nick Swisher, Kelly Johnson, Michael Bourn, Adonis Garcia and Eury Perez (and more) rarely yielded positive results. In fact, Todd Cunningham, who played a grand total of 184 innings, was the only Braves outfielder to finish with two or more defensive runs saved in 2015.
There is the possibility that the Braves could shift things around next year. Unless the team addresses left- or center field in free agency, it could look at Markakis in left field, Maybin in right and turn to speedy prospect Mallex Smith to man center. Is this likely, or would it even help? Unless Smith isn't ready to take on the challenges of an everyday center fielder, the Braves are going to be hard-pressed to be worse defensively out there next season. It's at least an in-house option to fall back on depending on what the offseason brings.