Sharp iron & guiding hands: Are teammates or coaching more important in MMA?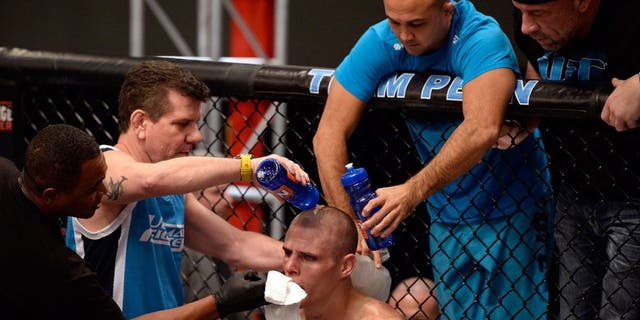 TJ Dillashaw deciding to leave Team Alpha Male for a new team in another state, last week, is an interesting development to consider. It isn't fascinating because of all the drama between TAM and former coach Duane Ludwig, who still coaches Dillashaw, and whom the bantamweight champ will now be closer to, full-time, at his new gym in Colorado.
No, all that personal stuff is just unfortunate and sad. What interests me are some of the factors Dillashaw must have weighed in deciding whether to stay in Sacramento with the team where he learned how to become a world champion, or to leave for a new team who would pay him money each month simply to train with them.
To be sure, it is easy to understand how a regular and sizable paycheck would appeal to a fighter used only to their irregular fight purse payment method of wage-earning. So, in an immediate personal finances sense, the choice may have been easy for Dillashaw to go with a team who might pay him a salary to do his daily grind.
Indeed, Dillashaw has spoken openly about how money influenced his decision. However, he had to have considered other factors as well, and weighed them against one another.
Dillashaw wants to get paid, but he no doubt also wants to stay champion. So, someone in his position would have likely had to decide whether or not they felt they could continue to win, even without the regular training partners he's used for his entire career.
Ludwig is also leaving behind Alpha Male's coaches, of course, but since he's openly talked about how valuable Ludwig's coaching is to him, we would have to assume someone in his position would feel that they are at least keeping their main coaching consistent, while changing up training partners, in making this type of move. He'll also likely have quality sparring partners at his new gym, but few if any teams can boast the stable of top-level lower weight fighters that TAM has.
That got me thinking about which, if either, was more important to a fighter's success - the coaching they receive or the teammates with whom they drill and spar with daily. As someone who has done fight training since adolescence, I have my own ideas on the matter, but I've only achieved sub-mediocre results as a fighter so I went to actual experts to get their take.
Featherweight Cole Miller has fought professionally since he was a teenager, and in the UFC for nearly a decade. He is also a long-time member of one of the world's mega MMA teams, the American Top Team.
"Magrinho" values coaching above all else, though admits that what can be more useful to a fighter may depend on where they are in their development. "I think it depends on a fighter and the position and point they are at in their career," he told us.
"For me, coaching was always more important. That's why I went to ATT. It has world-class coaching and that was what I was looking to gain. It still is. For me, if I can get some training partners who are even at a solid amateur level, I can deal with that if I have world-class coaching."
Coach and former kick boxing pro Duke Roufus combines some of the best fighting talent and coaching expertise at his Roufusport gym. He also says that over the years, he's changed the approach they take at his camp with the likes of Anthony Pettis.
"Coaching and training partners are both important. In MMA there is this culture of iron sharpening iron, in reference to the importance of having other good, tough fighters around you to make you better. But, I'm moving away from that on the high level."
"At the beginning, it is a great way to produce great athletes. But for guys like Tyron Woodley and Anthony Pettis, my objective first and foremost is getting them into title fights, healthy. Working with Pettis through the injuries he's had really changed our process.
"For this camp we've started now for his Boston fight in Jan., it is really coaching-based. We're hiring sparring partners and using some of his old training partners."
Roufus said that technical drilling are important for getting ready for a fight, and that MMA fighters should take a page out of the books of other pro sports, who try harder to minimize injury risks during practices.
After all, unabated, athletes can unintentionally target the big names during practice, to prove something, and that can lead to more injuries. "It's natural to go with a star fighter and try to show them what you've got. It's human nature," he said.
"It's about getting people to control how they train. People are pumped up. It's about trying to break that chain of habit. It isn't that people want to hurt others, it's just human nature. If I played basketball with Michael Jordan I'm going to work my ass off to show him I can ball."
Duke Roufus the fighter learned long ago to preserve himself a bit more during practices, and focus on working techniques his coaches taught him instead of trying to get the better of teammates. Now, he says he's trying to professionalize his whole gym's approach.
"Personally, I didn't spar hard when I was a fighter because, honestly, I don't like to fight for free," he explained.
"You can do a lot with technical pad work and drills. Fighters can't fight for free. The NFL doesn't let guys play football for free. I look at every fighter like a star quarterback who they put a red jersey on during practice. We put philosophical, pretend red jerseys on guys, now, during practices."
It would seem as though Miller and Roufus both believe that, at least on a high level, technical work and drilling that can be done with coaches may be even more important than the hard sparring you get with teammates. However, coach and retired former two-division UFC champion Randy Couture suggested to us that choosing between coaching and training partners may not be a good idea.
"I don't think you can choose between coaching and your teammates," Couture told us.
"I've had many great coaches who've taught me a great deal. And you can't really put a price on the value of hearing that familiar voice in your corner, from a person who knows you well, during a fight.
"At the same time, the core guys around you, your teammates who you have worked with for years, help make you who you are."
In the end, balancing the type of coaching and training partners a fighter decides to surround themselves with would seem to be a most personal calculation where results can vary a great deal. Careful and honest stock of who and where you are needs to be taken, and a clear understanding of what makes you who you are need be firmly grasped.
Only with all of that in hand could one be capable of making smart choices which either keep or get you to where you want to be.