Shaqiri's hat trick puts Swiss into 2nd round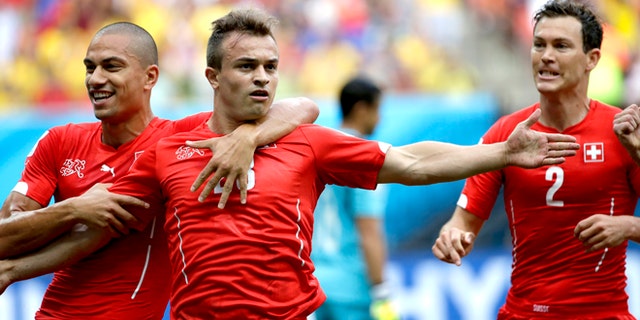 MANAUS, Brazil – Xherdan Shaqiri scored all three goals Wednesday to put Switzerland into the second round of the World Cup with a 3-0 victory over Honduras.
The Swiss will next face Lionel Messi and Argentina on Tuesday in Sao Paulo.
Shaqiri scored his first goal in the sixth minute, dribbling into a crowd of defenders and curling a shot into the net off the underside of the crossbar. In the 31st, he collected a pass from Josip Drmic after a defensive error and easily beat Honduras goalkeeper Noel Valladares.
Shaqiri completed his hat trick in the 71st. Drmic did well to beat Honduras defender Victor Bernardez on the left and pass to a charging Shaqiri, who one-timed his shot past a diving Valladares.
Switzerland finished second in Group E behind France, which held Ecuador to a 0-0 draw in the other game.
The Group E match at the Arena da Amazonia was the fourth and final game to be played in the Brazilian rainforest, and was the second to have an official cooling break because of the stifling heat and humidity.
According to FIFA, it was 26 degrees C (79 degrees F) with the humidity at 88 percent when the match started. Referee Nestor Pitana of Argentina made the decision to stop the match in the 39th, and the break lasted for about a minute. There was also an official break in the first half of the United States-Portugal match on Sunday.
After three 6 p.m. starts at the Arena da Amazonia, Wednesday's match started at 4 p.m. But a noontime thunderstorm combined with overcast skies and a slight breeze cooled the temperature a bit after several days of sunny skies and oppressive heat.
The extreme weather had been something Honduras was looking forward to. The Central American country has a similar climate, and they often play qualifiers under the same circumstances in an effort to gain an advantage over opposing teams.
On Wednesday, Honduras struggled to create much on the attacking end, but did manage several decent attempts in the second half. The team's best chance came in the 52nd minute when striker Jerry Bengtson beat Switzerland goalkeeper Diego Benaglio but had his shot cleared off the line by defender Ricardo Rodriguez.
A few minutes later, Honduras screamed for a penalty after substitute Jerry Palacios went down in the area with Switzerland defender Johan Djourou on his back, but Pitana decided otherwise.
Switzerland and Honduras played each other at the World Cup in South Africa exactly four years ago, on June 25, 2010, but that match ended in a 0-0 draw and both teams were eliminated.