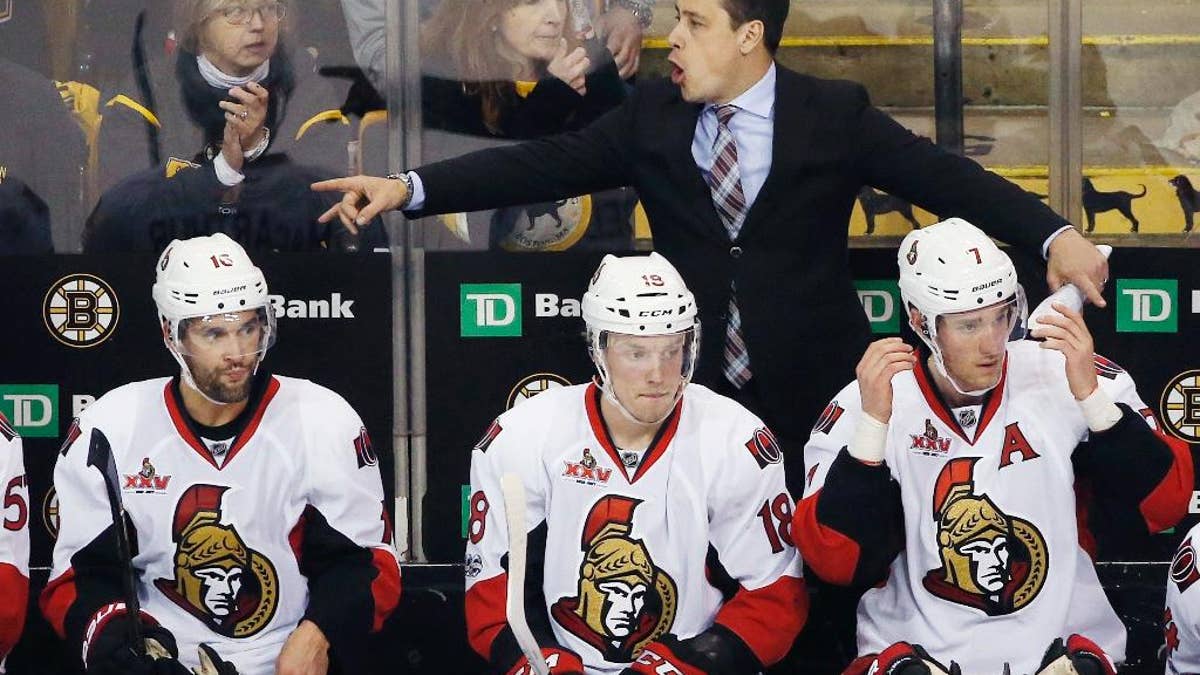 BOSTON – After five extra periods in four overtime games, the Ottawa Senators will get a chance to rest before meeting the New York Rangers in the second round of the NHL playoffs.
They'll need it.
The Senators eliminated Boston with a 3-2 victory in Game 6 of their first-round series on Sunday, finishing off the Bruins after six straight one-goal games — four of them in sudden death.
"It was quite a fight," Ottawa coach Guy Boucher said after Clarke MacArthur scored a power-play goal 6:30 into overtime to help the Senators advance to the Eastern Conference semifinals against the Rangers.
"In overtime, the message was clear - we're not going to play on our heels. We didn't work all year just to sit back and hope things turn out our way," Boucher said. "I thought we played great in the overtime, and instead of being scared to lose, we were hungry to win."
And no one was hungrier than MacArthur.
The Senators forward sustained a concussion on Oct. 14, 2015 — Game 4 of last season — and missed 156 games before he finally passed a baseline test in the last weeks of this season and was cleared to return. He played in only four games this year, without recording a point.
"You've been off for a couple of years and you're thinking, 'Yeah, I should make this play,' or, 'I should be able to do that,'" he said. "I've just been trying to stick with it and be patient, and you know it's slowly coming."
MacArthur scored in Game 2 against Boston, and then got past David Pastrnak on his way into the Bruins' zone in overtime, tempting the Boston forward into pulling him down from behind. Just 36 seconds into the power play, MacArthur grabbed a puck that deflected off goalie Tuukka Rask and beat him on the rebound for the series-winner.
"You saw what he had to go through all year. I think everybody wrote him off, for sure," Boucher said. "He's the one that said, 'I'm coming back, coach. I'll be available for the playoffs,' and I wanted to believe him, I really did.
"And then you think, 'He hasn't played for two years, how good is he going to be?' So, we started this series with him scoring on a power play. We finished the series with him scoring on the power play again."
Bobby Ryan and Kyle Turris scored five minutes apart in the second to give Ottawa a 2-1 lead, and Craig Anderson stopped 28 shots. The Senators, who hadn't won a postseason series for since 2013, will open the next round at home.
MacArthur, 32, said he doubted at times that he would be ready to return. He failed a baseline concussion test in January, but passed it near the end of the regular season and was finally cleared to return.
After getting a little bit of a tuneup as Ottawa pushed for a playoff berth, he was ready.
"There's nothing like living in the NHL and living in these playoffs," MacArthur said. "It (retirement) is something everyone's going to have to deal with one day. But I want to stretch it out as long as I can."
___
More AP NHL: https://apnews.com/tag/NHLhockey