SEC helmet rankings have Vandy, Kentucky on top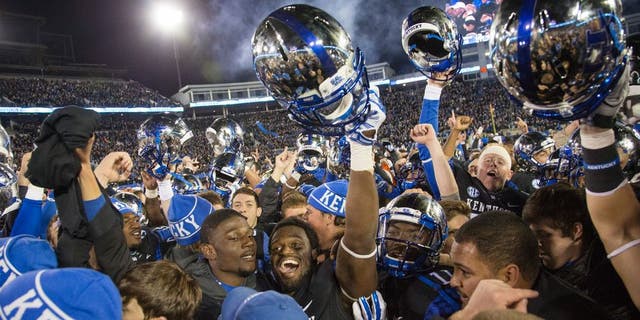 When it comes to SEC rankings, Vanderbilt and Kentucky usually find themselves at the bottom; neither team has seriously contended for a conference championship in decades.
But this week, they appear at the very top of SEC fan site Saturday Down South's rankings of the conference's best helmets.
Vandy's just-released "Deep Water" alternate helmets take the top spot on the list, with Saturday Down South explaining as follows: "(Vanderbilt's) alternate uniform combination set off by its murky Hydro Graphics lid complete with a gold chrome anchor is simply spectacular. The chrome facemask is a nice touch and the anchor links -- in lieu of a stripe -- spanning front to back is both original and appealing."
Coming in second on the list is Kentucky's alternate chrome helmet, which also is primarily chrome but features the standard "UK" logo on the sides. Saturday Down South writes, "UniSwag's winner of the best helmet last season, Kentucky's chrome alternate is one of several gameday options the Wildcats have at their disposal now that they've incorporated black and grey into their uniform options. These debuted against South Carolina (in a win no less) to rave reviews. Paired with black jerseys, the blue and chrome really pops."
So no matter what happens this season, Vandy and Kentucky can claim that they're the conference's best in at least one area.