Sebastian Vettel wins Japanese GP, 2013 F1 title not yet sealed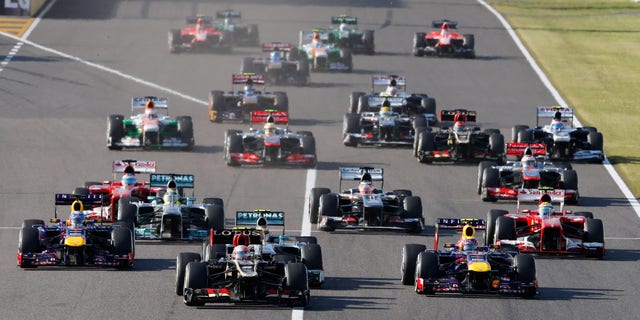 SUZUKA, Japan – Red Bull driver Sebastian Vettel won the Japanese Grand Prix on Sunday, but will have to wait to seal a fourth-straight Fomula One title as nearest rival Fernando Alonso finished fourth.
Vettel surged into the lead on the 41st lap and led a Red Bull one-two ahead of teammate Mark Webber by 7.1 seconds. Webber, who started from the pole position, passed Lotus' Romain Grosjean on the penultimate lap. Grosjean led much of the race but could not take his first F1 victory and finished third.
Vettel managed the rare feat of a fifth-straight race win and leads the championship by 90 points ahead of Alonso with four races remaining. The last driver to win five races in a row was Michael Schumacher in 2004.
Grosjean, who started on the second row, grabbed the lead at the first turn and held it until the 29th lap when he went into the pits for the second time to change tires. Vettel took the lead and waited for his final pit stop on lap 37.
With fresh hard tires, Vettel blasted past Grosjean on lap 41 to take the lead for good.
It was Vettel's fourth win in the past five races at Suzuka. He got off to a rough start when he clipped Lewis Hamilton's right rear tire before Turn 1, forcing the Mercedes driver to retire after the ninth lap due to a puncture and associated damage.
Grosjean was bidding to become the first French driver to win a Grand Prix since Olivier Panis at Monaco in 1996.
Prior to Sunday's race, the drivers honored Maria de Villota with a moment of silence. The former F1 test driver was found dead in a hotel room in Seville, Spain, on Friday. Her family said an autopsy showed that lingering injuries from her racing accident a year ago likely caused her death.