Seattle Seahawks RB Marshawn Lynch announces retirement with a tweet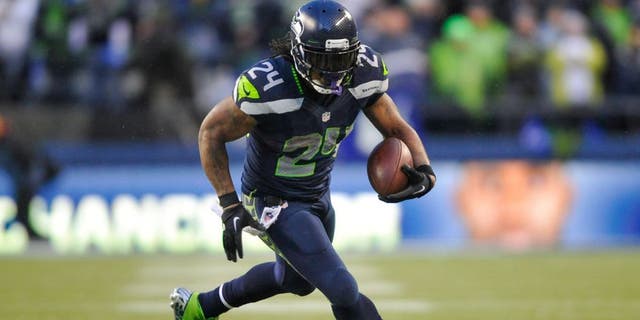 NEWYou can now listen to Fox News articles!
In keeping with the persona he cultivated during his career, Seattle Seahawks running back Marshawn Lynch announced his retirement Sunday without saying a word.
Early in the fourth quarter of the Super Bowl between the Denver Broncos and Carolina Panthers, Lynch sent out this tweet, depicting a pair of cleats hanging from a power or telephone line and a peace sign emoji.
While not a definitive statement, the tweet fit in with mounting evidence that the bruising running back is ready to move on from football.
The Seahawks official Twitter account added its own message to Lynch's post. The team told the Associated Press the tweet would stand as its statement on the matter.
Lynch's teammates in Seattle also took Lynch's message as a retirement statement, as did the team's owner, Paul Allen.
The tweet from Lynch also backed statements from Jan. 22 by Seattle general manager John Schneider in a pair of radio interviews that indicated Lynch was leaning toward retirement. Schneider said in separate interviews with two Seattle radio stations that he believes Lynch is leaning toward calling it a career after an injury-filled 2015 season.
Schneider first appeared on KIRO-AM, the team's flagship station, saying the team was going to give Lynch time and leeway to decide what he wants to do, but added he was "under the impression" Lynch was leaning toward retirement.
Later on KJR-AM, Schneider hedged his comments slightly, but reiterated that he thought Lynch was considering stepping away.
"I really, honestly don't know at this point," Schneider said on KJR. "If you put a gun to my head I would say he is leaning toward retirement. But I think with Marshawn you never really know. He's a fierce competitor. We just have to handle it the right way in terms of showing him as much respect as we possibly can for everything he's done for this organization."
ESPN reported earlier Sunday without identifying its sources that Lynch had been telling close friends he was planning to retire.
Lynch will turn 30 in April and is coming off an injury-plagued 2015 season where he was limited to just seven games in the regular season and one of Seattle's two playoff games. Lynch was bothered by hamstring and calf issues early in the season and later missed the final seven regular-season games with an abdominal injury that required surgery. Lynch returned for the NFC divisional playoff game at Carolina but was mostly a non-factor with the Seahawks falling behind 14-0 in the opening moments of the loss.
Lynch was limited to just 111 carries and 417 yards in the regular season, the first season of his career where injuries have been a significant factor.
Lynch would have cost the Seahawks $11.5 million against the salary cap for the 2016 season, a massive number for a running back of his age, but Schneider had indicated changes would be needed if Lynch wanted to return.
Now that doesn't appear it will be an issue.
The Associated Press contributed to this report.