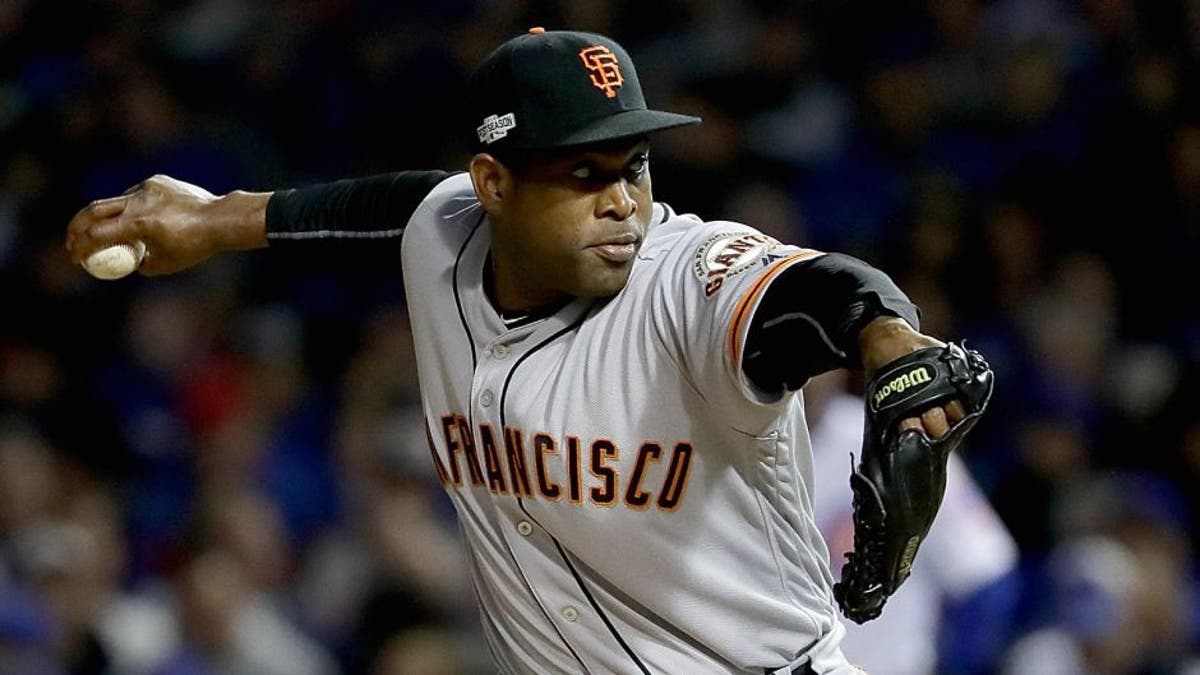 After the Chicago Cubs' stunning ninth inning NLDS Game 4 comeback over the San Francisco Giants on Tuesday, Giants relief pitcher Santiago Casilla broke down at his locker after witnessing the bullpen's meltdown and never getting a shot to stem the bleeding.
According to Carl Steward of The Mercury News, the 36-year-old righty, deposed as the team's closer in September after a rocky season and final month, "had his face buried in his hands as he sat silently and wept at his locker."
It felt like a certainty that the game was headed back to Chicago for a Game 5 when the Giants carried a 5-2 lead in the ninth inning. Starter Matt Moore had pitched eight beautiful innings (and maybe should have gotten a chance for one more), allowing just two hits, two walks and one earned run, but the Giants bullpen proved the team's Achilles heel as it had throughout the year.
Apparently Casilla, who made just one appearance in the series in Game 2 when he faced three batters and allowed two hits, was never ever asked to warm up as manager Bruce Bochy emptied the 'pen, needing five pitchers to record three outs as the Cubs rallied to take a 6-5 lead and then seal the deal.
"Never," Casilla said. "I'm a pitcher. I'm part of the bullpen. I know I have had some bad moments in September and during the season, but I have good numbers in the playoffs and I know I can pitch in that situation. I know I can pitch in the big leagues."
Casilla was a key bullpen cog in San Francisco since the even year magic began in 2010, serving as a setup man and closer, racking up 123 saves over the past seven seasons. But evidently he lost Bochy's trust after blowing a league-leading nine saves this season:
"I never had that moment before during five years here," Casilla said. "I had a little struggle. But everybody (in the bullpen) has had their bad moments. I think they forgot all the great moments I've had here. I've pitched a lot in the playoffs and done my job. I know I am a good pitcher."