Sanchez was instrumental on Eagles' game-winning TD vs. Cowboys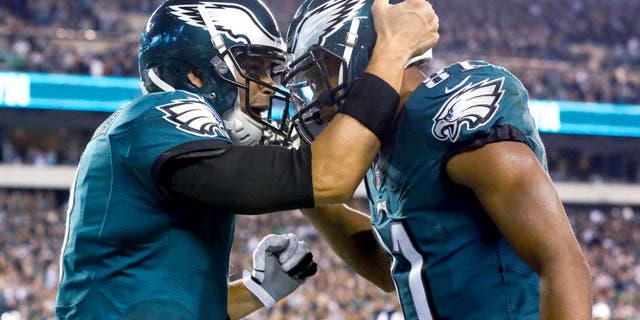 Backup quarterback Mark Sanchez is helping the Eagles win games from the sidelines. Bill Streicher USA TODAY Sports
Philadelphia Eagles backup quarterback wasn't even on the field when the Eagles connected on a game-winning 41-yard touchdown pass to defeat the Cowboys in Week 9, but he served a major role in making the play happen.
Sanchez was watching game film when he called in wide receiver Jordan Matthews to show him a few pointers about how to run his routes. Matthews used one of the tips Sanchez provided him on his game-winning touchdown reception.
"The one thing I want you thinking when we run this play is patience," Sanchez said, according to Matthews, per Philadelphia Magazine. "Be patient. Do not rush it. Because if you rush it, you're going to come back to the sideline [and] you're going to be mad at yourself.
"So just the whole time we run it, be like 'Patience, patience, patience,' and then the second you feel him coming up over you -- whether it's underneath or over top of you -- throw him through and get out and the ball should be there."
Quarterback Sam Bradford delivered a perfect strike and Matthews was at the right spot of the field to catch the football and turn up the field for a touchdown.
"[Sanchez] was definitely right," Matthews said. "It's a testament to him just getting me in the film room and us going over that."