San Francisco 49ers' Don Jones escorts teen with Down syndrome to prom: 'You are an awesome guy'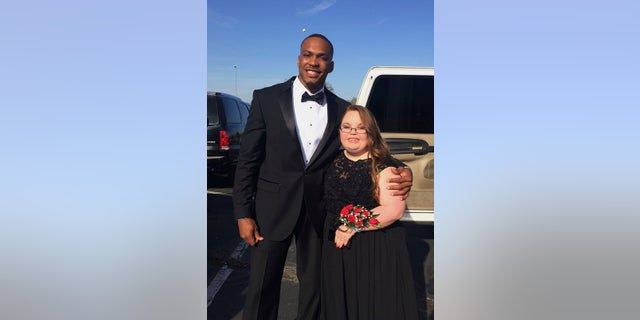 NEWYou can now listen to Fox News articles!
It was the night of a lifetime for 18-year-old Lindsey Preston, an Alabama teen with Down syndrome.
Last weekend, she was escorted by San Francisco 49ers defensive lineman Don Jones to a Mardi Gras-themed prom at Lawrence County High School in Moulton.
A video shared by Preston's mother, Kristi Martin, shows Jones, donning a tuxedo and walking arm-in-arm with Preston into the prom. Another shows the two dancing the night away.
"It was one of the most amazing things to ever experience," one prom-goer told FOX35.
Jones, 27, returned to his home state to escort Preston. The defensive back, who's entering his second season with the 49ers, graduated from Hazelwood High School in Town Creek, Alabama. He later played college football at Arkansas State University.
"Anything I can do to make some kids smile, I would be more than willing to do," Jones told WBRC-TV. "I think the most fun was all of the guys, I showed the guys about five or six new dance moves."
Martin personally asked Jones if he would take Preston to the prom; she told Al.com that she reached out to the football player through his mother, a family friend and special needs aide at the high school.
"He said he would make sure he was here no matter what" Martin said, adding in a Facebook post, "He not only made her feel special but he danced with all the kids and they loved it. You are a[n] AWESOME guy!"
Martin was not immediately available for additional comment when contacted by Fox News on Saturday.
"Our organization strives to positively impact the lives of others, and that would not be possible without people like Don who take advantage of opportunities to put smiles on people's faces and warm feelings in their hearts," a spokesperson for the San Francisco 49ers said in a statement to Fox News.
"So many of these stories happen every day involving our players and athletes everywhere, and we are proud that Don's actions helped bring that to light," the statement continued.