San Antonio Spurs great Tim Duncan retires after 19 years, five titles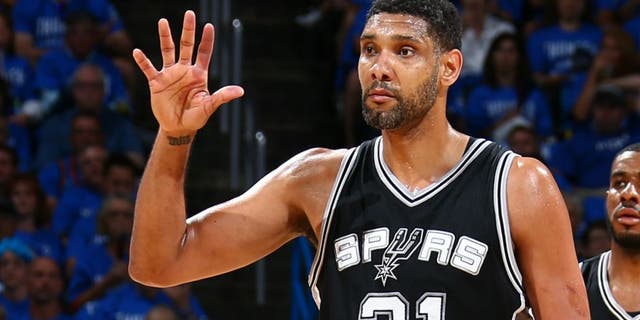 NEWYou can now listen to Fox News articles!
Tim Duncan is calling it a career after 19 seasons -- all with the San Antonio Spurs, all under coach Gregg Popovich.
Duncan announced the decision on Monday, with the Spurs tweeting the news.
The team also announced that there will be a press conference on Tuesday regarding his retirement, but that Duncan won't attend.
Duncan, 40, is a two-time league MVP, a three-time NBA Finals MVP and a 15-time All-Star. He won five NBA championships with the Spurs -- the first during the 1998-99 season and the most recent in the 2013-14 season.
The Spurs selected him with the first overall pick in 1997, and he kicked off what undoubtedly will be a Hall of Fame career by winning Rookie of the Year honors in 1997-98.
Duncan averaged 19.0 points, 10.8 rebounds, 2.2 blocks and 3.0 assists during his career. In 251 postseason games, he averaged 20.6 points, 11.4 rebounds, 2.3 blocks and 3.0 assists. San Antonio reached the playoffs in each season of Duncan's career.
In 61 games this past season, Duncan's 8.6 points per game, 7.3 rebounds per game and 1.3 blocks per game were career lows -- a combination of age and Duncan accepting a reduced role.
Duncan recently exercised his $5.6 million option for the 2016-17 season, but reports indicated he was leaning toward retirement. The Spurs have been preparing for this decision, reportedly agreeing to a deal with free-agent center Pau Gasol.