Sam Bradford: Jordan Matthews catches more footballs than anyone I've ever seen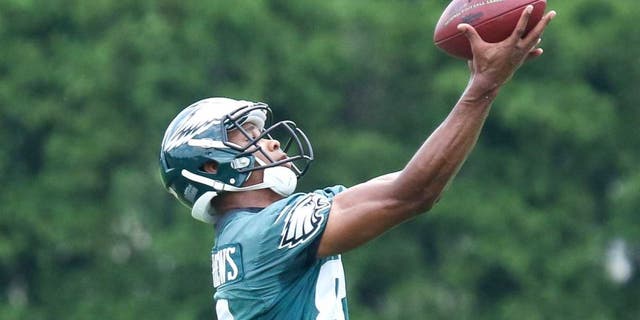 NEWYou can now listen to Fox News articles!
After a full season at the NFL level, Philadelphia Eagles wide receiver Jordan Matthews felt more focused on his craft when he trained this offseason. He put on more size and spent time refining his skills, and according to Eagles quarterback Sam Bradford, the hard work has paid off.
Bradford and Matthews have developed an obvious chemistry through the first eight training camp practices. This is something that the beat writers have noted and also something that the players have caught on to.
After one practice this training camp, Eagles cornerback Nolan Carroll commented on how Matthews "looks hungry", per the Philadelphia Inquirer. Back in June, Matthews called free agent addition Byron Maxwell the best cornerback he faced during his rookie 2014 season. Maxwell is probably happy he won't have to match up with Matthews again this season. After one training camp practice, Maxwell commented on how Matthews "has definitely gotten bigger" from the last time he saw him.
But no praise for a wide receiver is more important than that of his quarterback, and Bradford had nothing but good things to say about the second year player.
"I think that's one of the things you kind of want to go through in camp, put those guys in those situations, throw balls up, let them make plays," Bradford told reporters, per the Philadelphia Daily Inquirer. "Obviously, Jordan's come down with his fair share of those. I think it's a credit to the way he works. I think that guy catches more footballs than anybody I've ever seen. His hands are really strong. It's something he's always working on. I think it's something that's really showed up out here this first week."
Matthews has worked primarily out of the slot during training camp, because Chip Kelly believes this gives the offense an advantage. At 6-foot-3, Matthews poses a mismatch against smaller nickel cornerbacks, safeties or whoever the defense chooses to match up against him.
Although the last two breakout wide receivers in Kelly's offensive scheme played on the outside, Matthews' role in the slot should not hold him back from a true breakout season. Eagles beat writer David Murphy broke down a play where Bradford and the offense took advantage of Matthews' match up in the slot for a big play during 11-on-11 team drills at practice:
It's common for a rookie to be timid in his first NFL training camp and sometimes that can carry over to the regular season. Matthews is a changed receiver in his second season, and now that he knows where to be on every route, he is attacking the ball. Carroll, a player who has the opportunity to line up on the first team defense against Matthews every day, further explained the changes in Matthews' play.
"You can just tell that he's going 100 miles an hour," said Carroll, a cornerback. "We saw a little bit last year. This year, it's a dramatic change. You can really see him attacking the ball. When he goes up, you know he wants it. He's not just letting it come to him."
Matthews could probably be a dominant outside wide receiver if the Eagles needed him to be one, but he provides incredible value in the slot. Bradford throws an excellent ball down the seam of the defense, and Matthews offers the offense an explosive threat who can stretch the seam. If you get Matthews on one side of the formation and someone like Zach Ertz on the other, the defense is in trouble. If a defense opts to defend the seams, the Eagles can take advantage with their outside wide receivers. And if that same defense decides to let Matthews or Ertz run free down the seam, well then we know that big plays can and will happen.
"Man, he's got great range," Bradford said. "A guy that big typically doesn't play in the slot, and the fact that we use him in the slot I think is really advantageous to us. It makes it really easy on the quarterback to have a tight end and Jordan running down the seams or the middle of the field. They're big bodies, long targets that you can throw to. He's made some catches this past week that have been pretty impressive."
Matthews' dominant rookie season was overshadowed by Odell Beckham Jr.'s production, but he racked up 872 receiving yards and eight touchdown on 67 receptions. With Jeremy Maclin gone, Matthews has an opportunity breakout as the Eagles' unquestioned No. 1 wide receiver in 2015.
(h/t Philadelphia Daily Inquirer)