Saban impressed with Deshaun Watson: 'He's an outstanding player'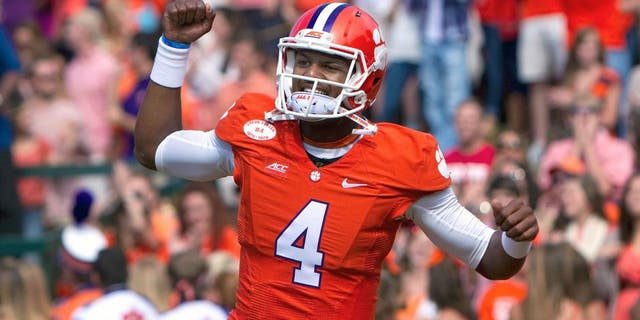 NEWYou can now listen to Fox News articles!
"To be the best, you must beat the best." The old saying is one Alabama head coach Nick Saban is likely to be saying to his Crimson Tide defense as they prepare to take on Clemson and star quarterback Deshaun Watson in the National Championship game Jan. 11.
Despite playing a number of dual-threat quarterbacks in recent history, Saban believes Watson is the best the Tide will have faced in quite some time.
"First of all, (Watson) is an outstanding player," Saban said. "He does a great job of executing their offense. Tremendous dual-threat in terms of being a very good passer and rushing for over 1,000 yards this year. Really is a very good rhythm passer as well as a guy who can sustain plays and extend plays because of his athleticism and ability to scramble. Really as fine a dual-threat quarterback as we've played against for long, long time."
While Alabama did play a number of solid quarterbacks this season, none combined the dual-threat capabilities of Watson. Whether it was Mississippi State's Dak Prescott or Ole Miss' Chad Kelly, who did much of their damage in the passing game, Clemson's talented sophomore will be a threat on every play to take off or throw it.
If the Tide can make Watson one-dimensional, expect another blowout win. If not, Clemson very well could earn its second national title (1981).