Ryan Hall uses BJJ to dominate and win 'Ultimate Fighter' title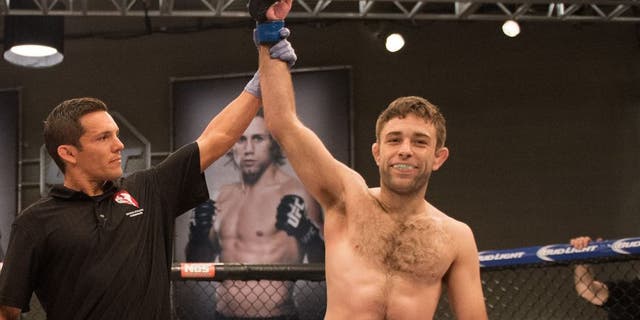 Ryan Hall dominated Artem Lobov for three rounds with his risky but effective aggressive Brazilian jiu-jitsu style, Friday in the "Ultimate Fighter" finals. Hall finished each round in a dominant position, threatening to finish, and it was enough to earn a unanimous decision victory and a contract with the UFC.
Scores were 30-27, and 30-26 (twice) for Hall, who improved his official pro record to 5-1.
"Artem is an incredibly dangerous opponent ... and I did my best with him," he said.
Hall's unconventional best was more than good enough. In the first, Hall dove for a leg-lock and used Lobov's defense of it to take the top position.
Hall locked on a front choke and then rolled backwards to take Lobov's back in one of the slickest grappling transitions we've seen all year. From there, Hall looked for the rear naked choke and scored with big elbows from behind, using a figure-four lock.
In the second, Hall scored with high kicks before shooting and rolling for a leg and then an arm.
After Lobov defended, Hall pulled guard as his opponent lunged in with an uppercut thrown from his hip. Hall worked for more leglocks but Lobov defended nicely.
Off of his back, Hall then shot for a triangle choke. Lobov defended that attempt and then an arm bar afterwards, but then got his lower body caught and the round ended with him defending another leglock.
Hall shot in for a leg at the start of the third, and then got to work from the 50/50 position, looking for a heel hook. Lobov got up but then Hall followed him and scored a takedown.
As Lobov got up again and turned to defend, Hall used a calf-slicer attempt to take Lobov's back, on the feet. Hall would spend the rest of the round on Lobov's back, threatening to finish and scoring with punches.
Lobov's record dipped to 12-11-1 and Hall's improved to 5-1.
Hall turned to MMA just a few years ago, hoping to test and prove his jiu-jitsu. As an unlikely TUF champion, he's done both, and come out smiling at the end.