Rutgers scrubs Ray Rice from everything but the record book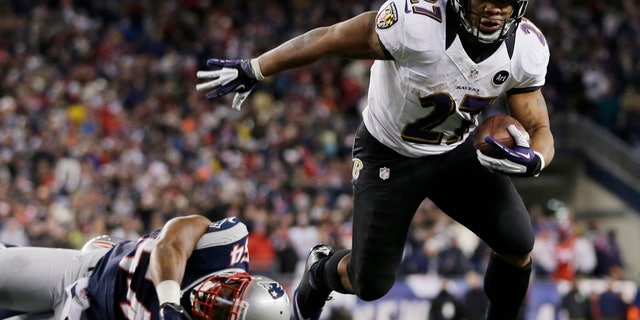 NEWYou can now listen to Fox News articles!
Rutgers University is scrubbing references to Ray Rice from its football program, but the Scarlet Knights can't kick the disgraced former NFL running back out of the record books.
Mentions of Rice, who remains the school's all-time leading rusher with 4,926 yards despite playing only three seasons, will be removed from a "Knights in the NFL" video montage played between the first and second quarters of home games at High Point Solutions Stadium.
"Ray was removed because he was cut from the Ravens," Tom Luicci, the school's director of digital media, told FoxNews.com. "He's not on an active roster."
"He won't be celebrated or promoted going forward."
Luicci declined to speculate on what would occur should Rice re-sign with another team.
All signage in and around the stadium with his likeness will also be completely by Thursday, Luicci said.
"He won't be celebrated or promoted going forward," he said.
Rice, who left the university following the 2007 season, will remain listed as the Scarlet Knights' all-time rusher, Luicci said.
Rice was cut by the Ravens on Monday following the release of video of the assault inside the now-shuttered Revel Casino in February.
New Jersey Gov. Chris Christie told reporters at an unrelated news conference in Atlantic City that the former Rutgers star showed "an incomprehensible level of violence" toward Janay Palmer, who is now his wife.
Rutgers football coach Kyle Flood, meanwhile, has said Rice will "always be a part" of the university's family.
"Family is family, but at Rutgers we hold ourselves to an extremely high standard, and we expect a lot out of our players, and we expect a lot out of the coaches and the staff that we have here ... we expect a lot out of our alumni," Flood said earlier this week. "I think because of those expectations, this is a sad day.
"Ray will always be a part of our family. The video I saw this morning was difficult to watch. As a husband and as a father, there's nothing that could justify what I saw on that video.
"This is a sad day for Ray and a sad day for Rutgers."
Rice was a second-round draft pick in the 2008 draft after a junior season in which he finished seventh in voting for the Heisman Trophy, the annual award given to college football's best player.
The Associated Press contributed to this report.