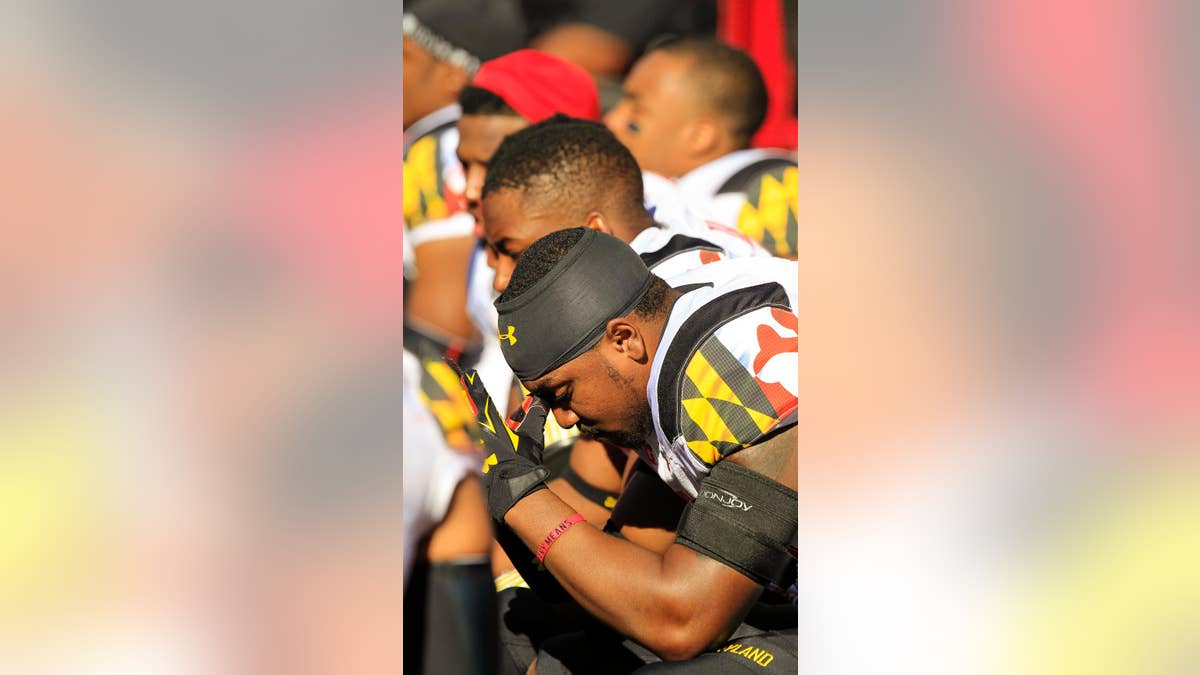 PISCATAWAY, N.J. – Rutgers could not stop the run on the road in getting a taste of Big Ten Conference reality against No. 13 Ohio State and No. 17 Nebraska.
Things may only get worse at home with Wisconsin on tap.
Wisconsin (5-2, 2-1) will bring the nation's second-leading rusher, Melvin Gordon, to High Point Solutions Stadium on Saturday when it faces Rutgers (5-3, 1-3).
Not only are the Scarlet Knights reeling after consecutive blowout losses, there is a chance they may not have senior quarterback Gary Nova, who sustained a knee injury last weekend in the loss to Nebraska.
Coach Kyle Flood said whether Nova plays will be a game-time decision. Redshirt freshman Chris Laviano would get the start if Nova can't go.
Regardless, Rutgers has to play better against the run. It has given up 616 yards and eight touchdowns on the ground the past two weeks. Nebraska's Ameer Abdullah ran for 225 last week on 19 carries. Opponents are averaging 178.2 yards against a unit that used to pride itself in stopping the run.
Gordon will be tough to stop. Playing behind a good line, the junior has averaged 198 yards over the last five games and scored 15 touchdowns rushing.
Rutgers defensive tackle Darius Hamilton said that the Scarlet Knights are making mistakes, not getting dominated.
"Obviously he's got some wheels, but he's a downhill runner," Hamilton said. "There's a couple plays against Maryland right there on the goal line where he's running over a safety and a linebacker at the same time to get into the end zone, so he's a big physical back."
Wisconsin pounded Maryland, another Big Ten newcomer, 52-7 last weekend. It will face Rutgers and Purdue on the road the next two weeks before ending the season with matchups with Nebraska, Iowa and Minnesota, games the Badgers hope will be for first place in the conference's West Division.
However, Wisconsin can't overlook Rutgers.
"They've lost two back-to-back really tough games against two very high-quality opponents," Wisconsin tight end Sam Arneson. "I'm sure they are excited to get a Big Ten team in their stadium on their terms. I know they'll be ready to go and I know we will be, too. It should be a good game. I'm really excited to go out there."
Here are some other things to watch when Wisconsin plays Rutgers:
QUARTERBACKS: Laviano was 4 of 7 for 49 yards, and he ran for 54 yards on five carries after Nova hurt his right knee. Wisconsin has been using two quarterbacks. Joel Stave has started the last two, is 15-6 as a starter and ranks ninth all-time in career passing yards (3,940) at Wisconsin. Junior Tanner McEvoy, a New Jersey product from Bergen Catholic, leads all FBS quarterbacks and ranks second among all players in rushing, averaging 10.0 yards.
BADGERS' DEFENSE: Wisconsin ranks No. 7 nationally in scoring defense at 16.1 points. In seven games, it has given up 13 touchdowns. Only Ole Miss (8), Stanford (11), Louisville (11), Alabama (12) and Duke (12) had allowed fewer through last weekend. Wisconsin has allowed 64 plays of 10-plus yards this season, matching Florida for the lowest total of any FBS team.
RUTGERS' D vs. WISCONSIN O-LINE: Wisconsin's offensive line has allowed six sacks, tied for the seventh fewest in the FBS. Rutgers is tied for 15th nationally and second in the Big Ten with 24 sacks.
RUTGERS' CARROO: Junior receiver Leonte Carroo ranks 15th nationally and second in the Big Ten with 775 yards receiving. He leads Rutgers in receptions (39), yards receiving (775) and touchdown catches (6). Carroo has four 100-yard games in 2014 and will be looking for his third straight this weekend.
WISCONSIN VS. B10 NEWBIES: The Badgers are 11-1-1 in their initial Big Ten games against new conference opponents.