Rose Namajunas schools Paige VanZant before finishing by rear-naked choke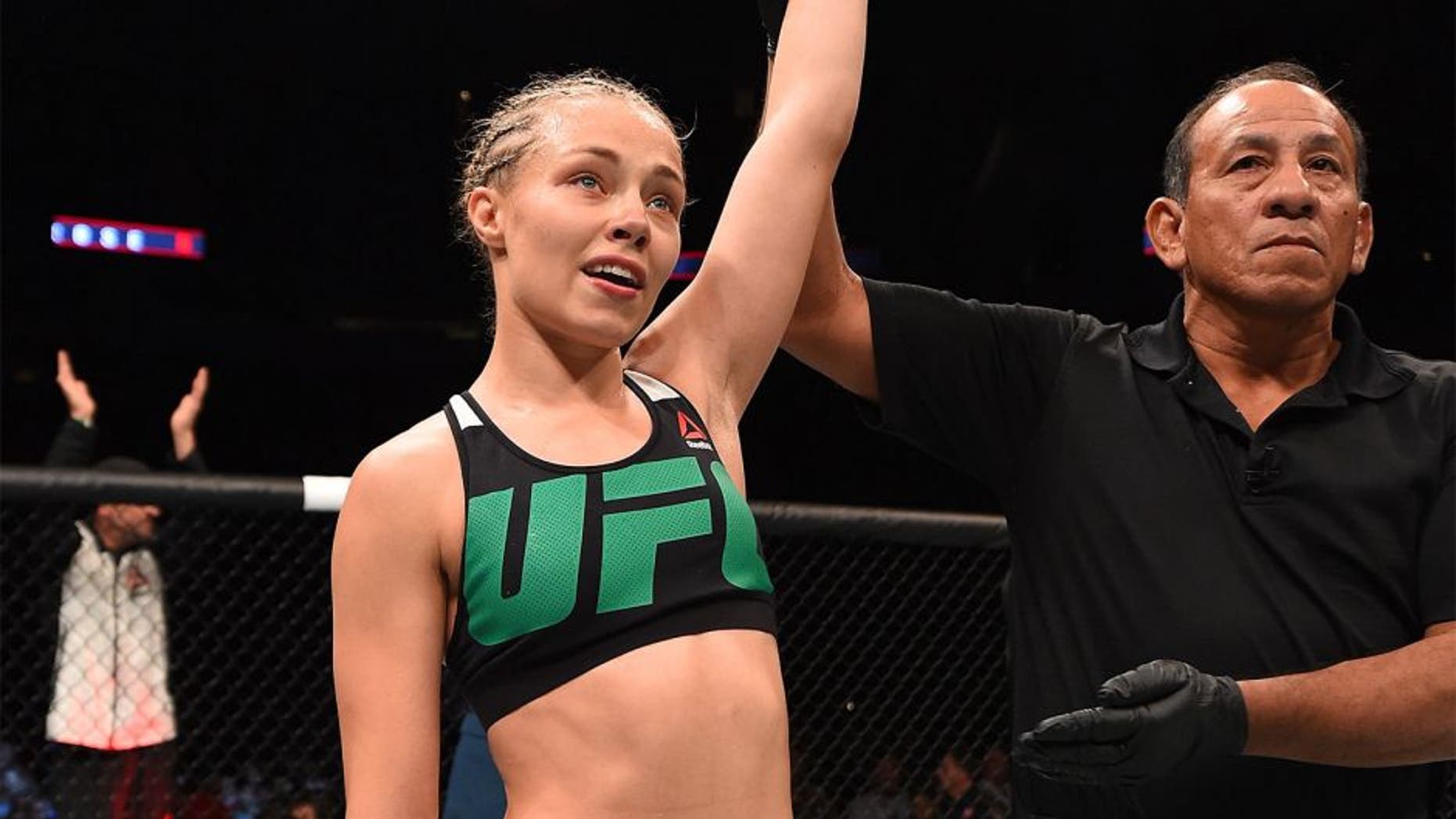 Rose Namajunas put on a five-round clinic before finally finishing Paige VanZant with a rear-naked choke Saturday night to make a strong statement that she's ready for another crack at the UFC strawweight title.
Namajunas actually came into the fight as a slight underdog, but she proved beyond a shadow of a doubt that she was the more dominant fighter as she beat VanZant from one side of the cage to the other over 20-plus minutes before finally getting the finish late in round five.
Namajunas looked comfortable on her feet as soon as the fight started, but once she got locked in the clinch with VanZant, she quickly transitioned to the body lock and the takedown.
Namajunas blasted away with a couple of hard elbows, one of which opened a cut on VanZant's right cheek as the blood started to trickle down her face.
Throughout the first round, Namajunas showed great poise and accuracy with her punches, and even when VanZant went for a throw, she reversed and ended up taking her back on the ground.
VanZant showed great heart to get out of a bad spot, but almost immediately Namajunas got back on top and started raining down shots once again. Namajunas was just relentless in a very lopsided round when the horn finally sounded.
VanZant once again tried to get a body lock and throw, but Namajunas simply out muscled her to the ground and quickly took the dominant position on the mat.
No matter where VanZant moved, Namajunas was there with the perfectly timed counter to whatever offense the 21-year-old Team Alpha Male fighter attempted.
As the third round got underway, VanZant was desperate to find an answer to Namajunas on the feet or on the ground, but she just couldn't find any weaknesses from the former "Ultimate Fighter" finalist.
Namajunas continued to work and finally secured the back again where she looked to put VanZant away with a rear-naked choke, but the scrappy strawweight refused to give up. With blood splattered across her face, VanZant walked to her corner searching for answers while Namajunas showed supreme confidence after pitching a shutout to this point in the fight.
No matter how far ahead she was on the scorecards, Namajunas wanted a finish and it looked like she would get one with an armbar early in round four. However, VanZant's never say die attitude wouldn't stop and she escaped once again.
Namajunas locked up another armbar later in the round and VanZant's grimace was unmistakable, but with shades of Dan Hardy fighting out of Georges St-Pierre's submission at UFC 111, she somehow survived again.
Namajunas was in complete control, however, and putting on an absolute masterpiece headed into the fifth and final round.
When she finally got VanZant to the ground this time, Namajunas wasn't stopping until she got the submission. From there, she quickly wrapped her arm underneath the chin and locked up the rear-naked choke. VanZant winced and tried desperately to find her way out, but there was no escape this time.
The tap out came at 2:25 in the fifth round as Namajunas put an exclamation point on a big win over a highly touted prospect in VanZant.
As lopsided as the fight was throughout, Namajunas admitted that she was a little annoyed she couldn't put VanZant away but ultimately she still got the finish, which was the goal she set as soon as she stepped into the Octagon.
"I'm a finisher so it's frustrating to not get it right away but as time went on I said 'you know what I'm just feeling so good right now, I'm just going to keep doing what I'm doing'," Namajunas said.
Namajunas fought for the inaugural strawweight title after her season of "The Ultimate Fighter" and she came up short against Carla Esparza. This latest performance showed just how much she's grown since that time and Namajunas could be on course for another title shot in 2016.
"I just want to take a little break for a second and let my body heal," Namajunas said while addressing her immediate plans. "But I'm ready for anything."
As for VanZant, she left the cage emotionally shaken after suffering only the second defeat of her young career. At just 21 years old, VanZant still has a long career in front of her and this will serve as a huge learning lesson as she plots her return next year.