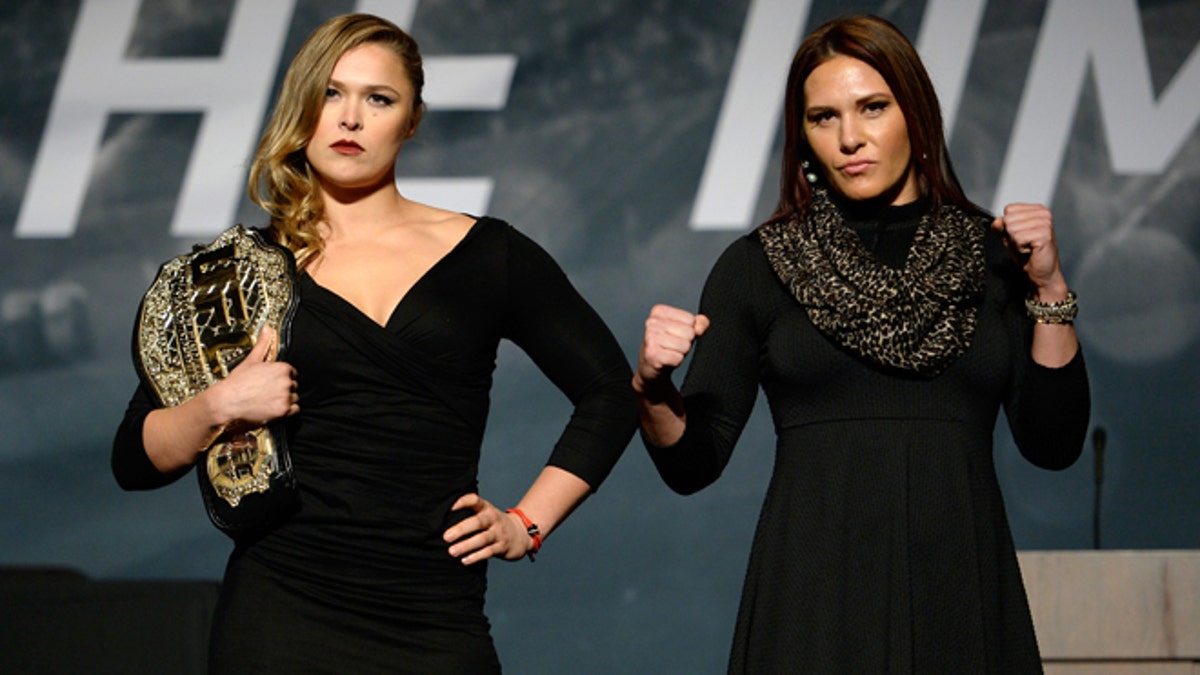 There has never been another women's bantamweight UFC champion, and since being given that title in November 2012, Ronda Rousey has dominated every challenger who has ever dared step into the octagon against her.
The way she's done that, she claims, is to take every challenger seriously.
"When I was no kind of a deal or a big deal, I was just as motivated Day 1 as I am now," Rousey told reporters on Thursday.
"There was no amping up, and there is no toning down. This is just the way I am."
By many measures, a historic event will happen when Rousey steps into the octagon with Cat Zingano in the main event of UFC 184 on Saturday night at the Staples Center in Los Angeles.
Two unbeaten mixed martial artists are facing off for a title belt for only the third time in UFC's 20-year history. Rousey (10-0) is the most accomplished fighter in the history of the women's sport, and she now faces possibly the toughest test of her career in Zingano (9-0), a formidable contender who is finally getting a long-delayed title shot.
"She presents a lot of unique problems that I'm going to have to solve," Rousey said Thursday. "I think I'm capable of it, but it's definitely the most challenging fight I've ever had to prepare for. Most of the women I've fought couldn't stand up to Cat, but I think I'm capable of doing it."
Not everybody is sold on the bout's historic potential, however — and that's because Rousey is just too good.
She is a 12-to-1 favorite in some oddsmakers' eyes, and it's tough to find a lot of experts who believe Zingano's grappling and jiu-jitsu can overcome Rousey's ferocious judo skills and armbars for five minutes, let alone a five-round championship fight.
Yet Rousey's dominance is the reason women's MMA has skyrocketed in prominence over the past two years, and Zingano is eager for her shot at the champ. After a career filled with steady growth through adversity, she carries a quiet confidence into her second fight since a knee injury and her estranged husband's death.
"I'm something different," Zingano said. "I'm something unique, and I think I can bring her a different challenge than she's ever seen before. We'll see how she handles it, but I'm very confident I'll win."
The card for the night started out filled with big names, including the original headline match between middleweight men's champ Chris Weidman and No. 1 contender Vitor Belfort, but an injury to Weidman caused the fight to be moved to May 23.
As a result Rousey-Zingano moved up to the main card, but nobody is questioning the fight's star power.
Like the recently announced bout between welterweight champion Floyd Mayweather and Manny Pacquiao, Rousey v. Zingano is the star-studded fight everybody wants to get cageside for.
UFC President Dana White said that among the celebrities expected to attend UFC 184 are Jennifer Lopez, Demi Lovato, Ed Norton, Will Smith and Jada Pinkett Smith, Mandy Moore, Mark Wahlberg, Maria Shriver, Vin Diesel, and Charlize Theron.
"A lot of celebrities we don't normally get," he pointed out.
On Thursday, TMZ Sports posted a video interview with Rousey in which she joked that she had an extra motivation for this fight: So she can afford tickets to the Mayweather-Pacquiao fight on May 2 at the MGM Grand in Las Vegas.
"I gotta go beat Cat Zingano so I can make a couple million dollars and afford that ticket," she told TMZ.
Asked who she would be rooting for, she answered, "Pacquiao has been very, very nice to me, so I'm going to root for him."
UFC 184 marks the first time in two years that the organization mounts an even in the largest U.S. media market that allows MMA. UFC canceled a mediocre card at Staples last August when main-event fighter José Aldo was injured.
The organization hasn't staged a show in Southern California, the home base of innumerable prominent fighters — including Rousey, who lives beachside in Venice — since February 2013.
Rousey also headlined the last show in Southern California, winning her first title defense against Liz Carmouche in UFC's first women's bout.
UFC's White ended a long-standing aversion to promoting women fighters when he saw the star potential of Rousey, who has become an actor, a Sports Illustrated swimsuit model and a global face of MMA in the two years since that debut in Anaheim.
Zingano should have had this shot at Rousey two years ago when she upset Miesha Tate for the chance to coach against Rousey on the UFC's long-running reality show, "The Ultimate Fighter."
But Zingano tore a knee ligament in training, and Tate stepped in for a headline-making stint on the show and a subsequent loss to Rousey at UFC 168.
Rousey and Zingano have a healthy mutual respect, and both fighters have spoken politely about each other for several weeks now. That isn't always the case with Rousey, who nursed a long-running feud with Tate throughout their rivalry. She also has occasionally threatened to rip off an opponent's limb and throw it at her corner.
The champ's intense personality showed up this week in Thursday's ceremonial staredown following a public appearance. Rousey and Zingano rushed toward each other at center stage, Zingano greeting Rousey with fists raised, until UFC officials moved them apart.
Rousey also exchanged verbal jabs through the media this week with Arianny Celeste, the UFC's most prominent ring-card holder. Rousey is "not impressed with the job" held by the so-called Octagon Girls, while Celeste called Rousey a bully.
"I save the theater for in between fights," Rousey said. "In the cage, I try to be as efficient as possible, and that's what I'll try to do against Cat."
The Associated Press contributed to this report.
Like us on Facebook