Ronaldinho proves he's still got it with a filthy no-look assist against Real Madrid legends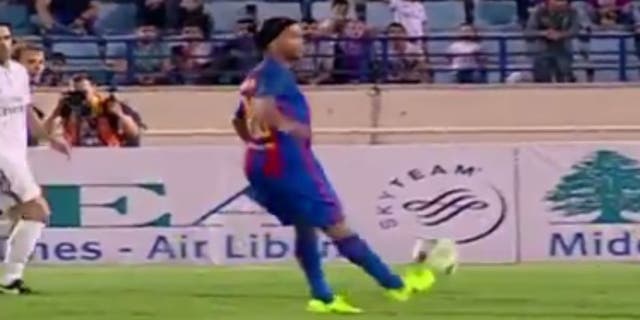 Ronaldinho's career is welland truly past itsprime, but the Brazilian proved he's still got the swagger that made him such a captivatingplayer for so many years. Playing in Friday's showcase between retired Barcelona and Real Madrid legends, the 37-year-old ex-Barcelona ace flicked an inch-perfect pass to Ludovic Giuly for an assist.
And while that sounds all well and good, to truly be a highlight there needed to be a little extra sauce. Well, being that he's Ronaldinho, the Brazilian completed the assist with his head turned the opposite way. Yep, a no-look assist.
It's so beautiful. The finish from Giuly is great, but you can just picture Dinho's massive smile as soon as he hits the ball. The thought process to pull off something that audacious is vintage Ronaldinho.
For the record, the Barcelona legends edged their Real Madrid counterparts to the tune of 3-2, but it's clear who stole the show.
MORE FROM FOX SOCCER: