Rico Abreu focused on making most of big opportunity at Phoenix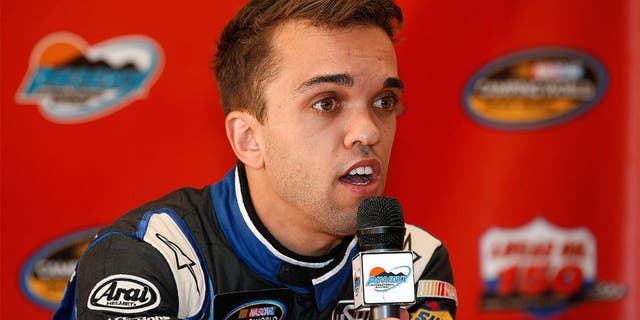 Friday night at Phoenix International Raceway, sprint-car sensation Rico Abreu will make his NASCAR national touring debut in the Lucas Oil 150 Camping World Truck Series race.
Making the transition from the NASCAR K&N Pro Series East cars to the trucks, Abreu is looking to make the most of his opportunity with NTS Motorsports and hopefully turn some heads to further solidify his future in the sport.
Standing just 4-foot, 4-inches tall, Abreu will climb in a No. 31 Chevrolet truck that has the same modifications as his K&N East ride, with the gas, brake and clutch pedals attached under the dashboard. He indicated the biggest transition from sprint and midget cars to stock cars has been the heaviness of the vehicles, but he has adjusted quite well.
Still a relative newcomer to stock-car racing, Abreu -- a native of St. Helena, California -- earned one win, four top fives, eight top 10s and finished his first K&N Pro Series East season fifth in points.
"This is something that I enjoy, these stock cars," Abreu said Friday at PIR. "My whole career ... I've never been really stable in a racing series, and I think this could be it. I just want to be given the right opportunity and make sure you have your shot. I think you only get one shot at this deal, to be good at it and get in the right equipment."
Abreu indicated he has no solid plans for the 2016 season, but he is eager to stick with stock-car racing.
Expected to run next weekend's truck race at Homestead-Miami Speedway (pending NASCAR approval), Abreu will spend part of his off-season defending his Chili Bowl Midget National title in Tulsa, Oklahoma, and competing in the Snowball Derby late model event in Pensacola, Florida. He also plans to cut back his racing schedule to spend more time with his family and rest up for 2016.
"I would love to run whatever next year," he said. "Right now we don't have any plans, and I basically just fill my sprint-car races in when I'm not racing stock cars."
The NASCAR Next member said he does not have any big expectations for Friday night's truck race, but believes his biggest challenge will be on pit road and figuring out the differences between the truck and his K&N Pro Series East car.
"A stock car is a stock car, and obviously you've got different tires and the trucks are a lot different than the East cars, but all-in-all they feel somewhat similar," he said.
One difference Abreu expects to experience during Friday night's race is how the trucks handle in traffic behind other competitors. He was quick to point out that aside from Dover International Speedway, the K&N East cars are not affected by aerodynamics, which will play a big role in Friday night's race.
With limited track time due to NASCAR's ban on testing, Abreu spent a lot of time earlier in the week preparing for Phoenix by practicing on iRacing, an online racing simulator.
"I spent all of Tuesday on the computer. I basically just dedicated my whole Tuesday to my computer, which I normally don't," he said. "I think it's a lot similar. You just don't have that real sensation of the downforce, but I think it's real similar when you get that sensation if the truck is tight or free. The aero isn't as up to point in the game as it is in real life. ... Anytime you can just run laps is good and it just makes you more aware."
Abreu spent the majority of Thursday's practice session at Phoenix getting comfortable in the truck, focusing on the handling and the line around the challenging 1-mile track. Still, Abreu is keeping his expectations in check approaching his series debut.
"If I could just put a good solid day together, I'd be happy with it," he said.