RG3 throws 2 TD passes, Redskins lead Seahawks 14-0 after 1st quarter in wild card game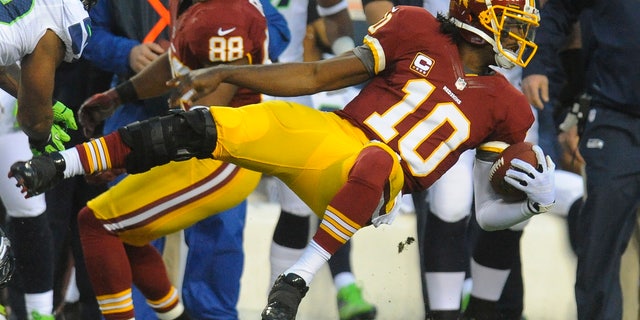 LANDOVER, Md. – Robert Griffin III threw two 4-yard touchdown passes in his first career playoff game to give the Washington Redskins a 14-0 lead over the Seattle Seahawks after the first quarter of their NFC wild-card game.
Griffin capped the Redskins' only two drives of the quarter against the NFL's top-rated defense with short tosses to running back Evan Royster and tight end Logan Paulsen. The Seahawks finished first in scoring defense, allowing 15.3 points per game
Griffin was 6 of 9 for 68 yards and ran three times for 12 yards. On the second drive, the rookie fell awkwardly while backpedaling on a pass and came up limping. He sprained his right knee in Week 14 and has sported a brace over the last three games.
Rookie Alfred Morris, the league's second-leading rusher, had 49 yards — 34 of them on four carries during Washington's opening drive that resulted in the TD pass to Royster.
Paulsen's touchdown catch finished of an 11-play, 54-yard drive in 5:58.
Seattle was moving the ball in the first quarter, but a promising drive ended when the Redskins' Stephen Bowen and London Fletcher combined to sack rookie quarterback Russell Wilson on third-and-2. It was one of two sacks for the Redskins in the quarter.
The playoff meeting between the two teams was the third, but first outside Seattle. The Seahawks won 20-10 in January 2006, and 35-14 in January 2008. Those were the last two postseason games played by the Redskins, who entered the playoffs riding an NFC-best seven-game winning streak.
Seattle has won five straight, outscoring opponents 193-60, but finished the season with a 3-5 road record and has lost eight straight road playoff games. Their only road playoff win came in its first postseason road game, Dec. 31, 1983 at Miami. The streak is the second longest in the NFL behind Detroit.
Washington, NFC East champions and No. 4 seed in the conference, became the first team since the Jaguars in 1996 to reach playoffs after starting 3-6. The Redskins went worst-to-first after finishing last in division for four straight years.
This was the second playoff game in NFL history with two starting rookie quarterbacks. Last year in the first-ever rookie QB meeting, T.J. Yates led the Texans to 31-10 victory over Andy Dalton and the Bengals.
Wilson tied Peyton Manning's 1998 NFL rookie record with 26 touchdown passes. Griffin set the league mark for yards rushing by a rookie quarterback (815) and had the best single-season rookie passer rating in NFL history (102.4), followed by Wilson (100).
Seahawks starting CB Brandon Browner and Redskins CB Cedric Griffin returned from four-game suspension for failing a drug test.
___
Online: http://pro32.ap.org/poll and http://twitter.com/AP_NFL