Rex Ryan opens up on the Buffalo Bills: 'I don't wish them good luck'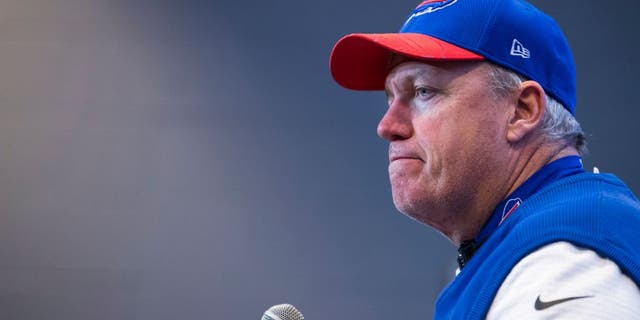 For the second time since 2015, Rex Ryan is out of a coaching job. He was fired by the Buffalo Bills before their season finale against the New York Jets, the team that let him go just two years before.
Ryan has been quiet about the whole situation -- which was undeniably messy -- steering clear of the media and opting not to comment on his exit from Buffalo.
But he did open up on Monday in an interview with Manish Mehta of the New York Daily News. Ryan isn't bitter about being fired by the Bills, and he has 15 million reasons not to be.
"I'm really not that bitter, and maybe that $15 million is one of the reasons," Ryan said. "I'm not bitter, man. … Yeah, I'm hurt. I was hurt by it. There's no question. But bitter ain't how I feel. I'm like, 'Shoot, if they never wanted me here, then fine. I ain't here. I'm not your coach anymore. Fine and dandy.'"
While he's not bitter, Ryan still doesn't wish the Bills well in the future -- something he does for the Jets.
"I don't wish them bad will," Ryan said. "I don't. But I don't wish them luck, either. I'll be honest: I don't wish them good luck. I don't wish them bad luck. I just don't wish them luck. I wish the Jets luck."
After he was fired by the Bills, Ryan left the team's facility in his custom truck, which was plastered with the team's' logo and color scheme. It didn't take long for him to switch up his ride, changing Bills logos for Clemson paw prints and helmets.
" ... Let me tell you, I stripped that damn truck the day I got fired," Ryan said. "[Expletive] you guys."
He finished his tenure in Buffalo with a mediocre 15-16 record, which is akin to his career mark of 61-66 -- hovering right around the .500 mark. Ryan never expected to be average. As soon as he got to Buffalo, he declared the Bills would end their league-long playoff drought with a trip to the postseason.
That didn't happen, and Ryan now admits he set the bar too high -- even for his own standards.
"I set the expectations too high," Ryan said. "Like, boy, that's a shock. In a way, I felt, why not us? I stepped in where the head coach had quit, the defensive coordinator quit and the quarterback quit on them. So, I thought that it was important at the time to say, 'You know what? Shoot, I believe in you. And I'm proud to be the coach here.'"
Ryan admits he did catch a few bad breaks along the way. Rookie Shaq Lawson missed six games this season, Reggie Ragland sat out all of 2016 due to injury, and Sammy Watkins was riddled with several ailments in Ryan's two seasons at the helm. He did, however, have one of the best defenses in the NFL when he arrived and a running back that was regarded as a top-five player at his position. None of those individual factors led to Ryan's demise in Buffalo, but the combination of all of them did play a role.
Ryan, 54, is moving forward as a member of ESPN's team for Super Bowl LI. He's not sure whether coaching is still in his future, but it'll take a perfect situation for him to get back into it.
"The one thing about (being on TV) is that you don't lose," Ryan said. "You'll remember every damn loss. But the wins? You don't necessarily remember. So, it takes a lot out of you. I'm tired of getting [expletive]. Unless it's a real situation, there's no sense of getting into it again."