Revis: Beckham Jr. catch was 'by far the best' I've ever seen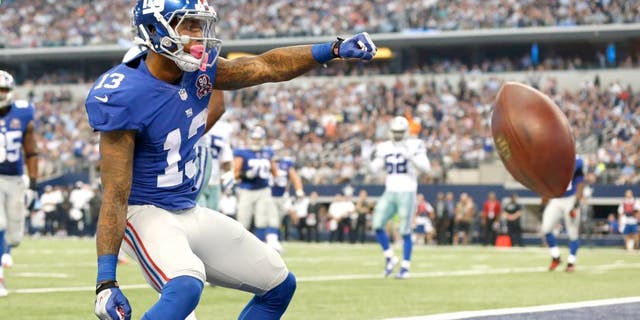 The New York Jets and New York Giants are set to square off in the Snoopy Bowl on Saturday as they'll meet in MetLife Stadium for a Metro Area matchup.
With it comes a battle between two of the league's best playmakers: Darrelle Revis and Odell Beckham Jr.
But before they meet on Saturday, Revis threw some praise Beckham's way -- specifically regarding "the catch."
"It was pretty awesome. It was probably by far the best catch I've probably ever seen," Revis said, via Dom Cosentino of NJ.com. "I don't know. It was weird how he caught it. But at the same time, [for] him to have that type of focus during that time, during that play, him being able to snag the ball like that -- it was a pretty cool play."
Revis admits to not watching much film on him, although that will probably change before the two square off on Saturday. Even without watching film, Revis is well aware of what Beckham Jr. has done since entering the NFL.
"He's had, I guess, an awesome year last year," Revis said. "Everybody's noticing what he's done last year, and you've got to tip your hat off to whatever he's done last year."
Revis is right: everyone is noticing what Beckham Jr. has done. And it's lead teams to target him more often -- both with double teams and supposed "cheap shots." With that said, Revis says it's time for the youngster to step up.
"He just has to step up to the challenge," Revis said. "He's one of the best receivers in the league. He definitely is maybe a target for coaches to game plan, or maybe slide the coverages over his way, or maybe a safety, or maybe a double [team]. The guy did awesome last year. This comes with it, in years after. It's something that he has to work at."
Football fans will be be treated to what should be a great show when Revis and Beckham Jr. line up across from each other on Saturday. Even though it's preseason, it's still going to be fun to watch. And after their battle is over on Saturday, fans will have another matchup to look forward to when the two teams meet again on Dec. 6.
(h/t NJ.com)