Reuben Foster, San Francisco 49ers linebacker, arrested on domestic violence charges, reports say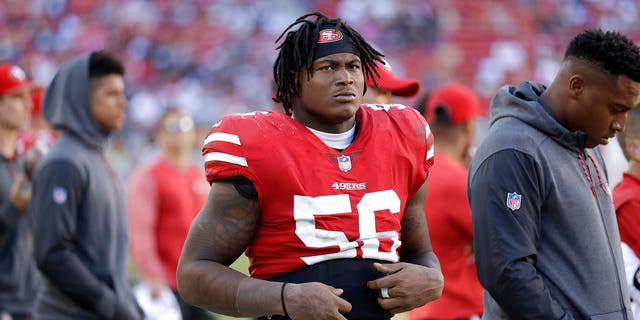 San Francisco 49ers linebacker Reuben Foster was arrested Sunday on charges of domestic violence and gun possession after an argument with his girlfriend got heated, according to reports.
Foster, a 23-year-old first-round pick in last year's NFL draft, was arrested in Los Gatos in Santa Clara County, California, and is currently being held without bail, the San Francisco Chronicle reported.
County jail records show the NFL player's bail has been set at $75,000.
Foster also was arrested on suspicion of possessing an assault rifle, according to The Mercury News.
The 49ers organization said it was "aware" of reports of Foster's arrest, and added: "We take matters of this nature seriously and are gathering all pertinent information."
Sources told The Mercury News that officers were called to Foster's home in Los Gatos for a domestic disturbance. A woman in a long-term relationship with Foster reportedly told police the two got into an argument.
Police discovered what appeared to be an assault rifle as they responded to the disturbance, according to the newspaper.
Foster's arrest would be his second within a month. On Jan. 18, he was arrested and charged with second-degree possession of marijuana.
The Associated Press contributed to this report.