Report: Warriors working on extensions for Barnes, Ezeli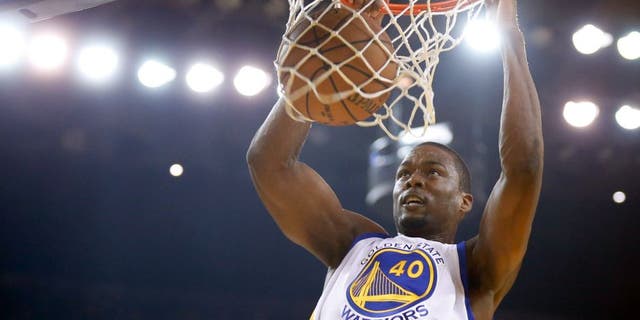 With the deadline for contract extensions for the 2012 draft class just two months away, the Golden State Warriors are trying to lock up forward Harrison Barnes and center Festus Ezeli before they can reach restricted free agency.
Warriors GM Bob Myers discussed the topic on a local Bay Area radio station, saying:
If either Barnes or Ezeli reaches restricted free agency, opposing teams can offer them mammoth contract sheets, forcing the Warriors to either overpay to keep them or lose them for nothing.
Barnes will use Michael Kidd-Gilchrist's recent 4-year, $52 million extension as the baseline for his extension, and Ezeli is reportedly going to be in the ballpark of $10-12 million per season. When factoring in Stephen Curry's inevitable max contract and Klay Thompson and Draymond Green's recent near-max deals, the Warriors will be paying a hefty price for those five core players (which doesn't even include the possibility of retaining Andre Iguodala and/or Andrew Bogut).
Preserving a championship roster -- especially when the roster is young and has dynasty potential -- is invaluable, though, if not a bit costly. The Warriors have until October 31 to reach an extension with Barnes and Ezeli.