Report: Bradley Jr., Parra on Royals' radar if Gordon leaves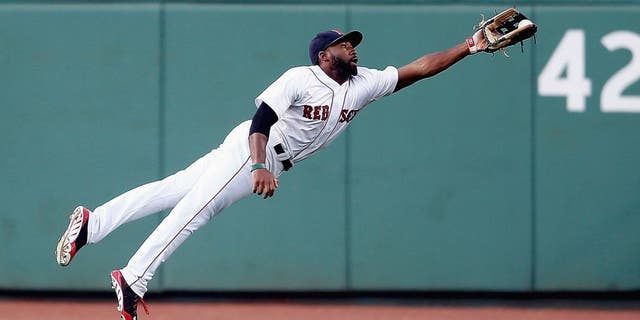 NEWYou can now listen to Fox News articles!
The Kansas City Royals may be bracing themselves for the reality of losing star outfielder Alex Gordon to free agency. If that happens, the club will have a big hole to fill in the outfield, and the Boston Globe's Nick Cafardo floated two intriguing names as potential options in his Hot Stove column on Sunday.
According to Cafardo, the Royals could look to the Boston Red Sox and try to put together a trade for dynamic outfielder Jackie Bradley Jr...or they could set their sights on free agent Gerardo Parra:
Bradley has had a bit of a tough time thus far in Boston, having only appeared in 238 games at the big-league level over the last three seasons. In 2015, he hit .249/.335/.498, though defense is more of his strong suit. In 127 games for the Sox in 2014, Bradley had a dWAR of 2.0, indicative of his skills in the outfield.
As for Parra, he hit .291/.328/.452 in 2015 for the Milwaukee Brewers and Baltimore Orioles, and would be a bit more of an offensively-minded option for the Royals.
Replacing a player of Gordon's skill set is a tall task, but according to Cafardo's column it appears Kansas City is possibly considering a more complementary-type role player rather than a run-producing team MVP type (which Gordon was in his years as a Royal).