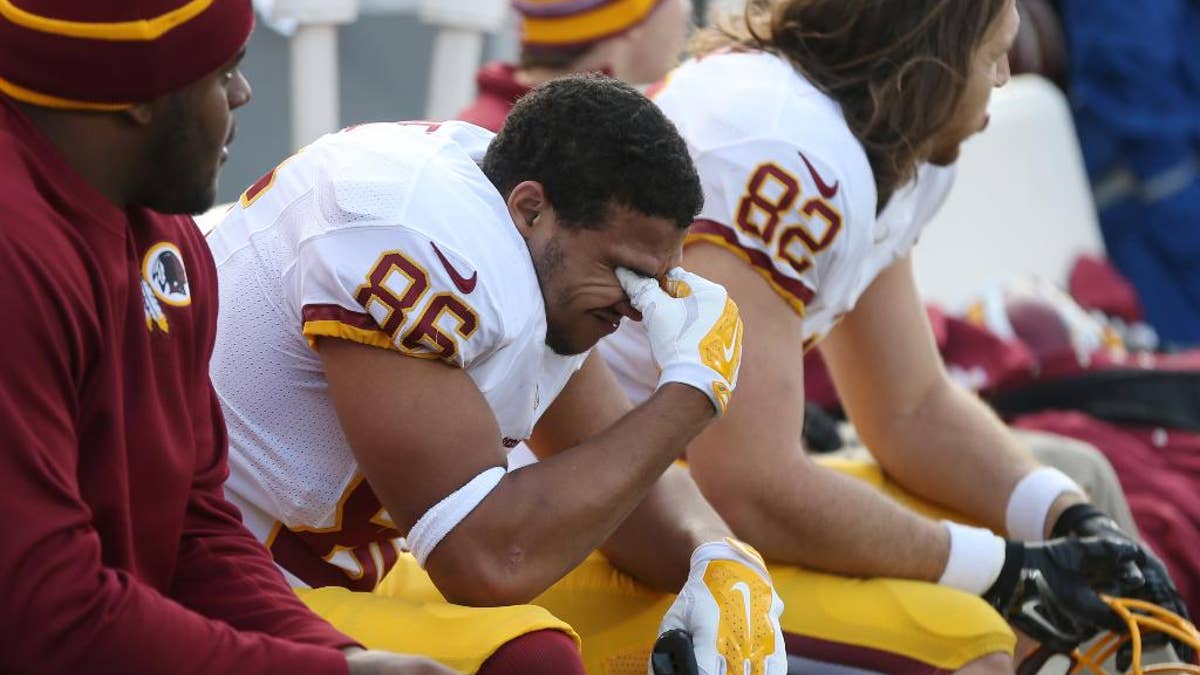 ASHBURN, Va. – Just before the Washington Redskins opened their locker room to reporters for the final time before the bye-week break, coach Jay Gruden happened to wander down the hallway.
He jokingly suggested he should go in first to warn the players not to be so loud, or that maybe he should hold up one of those "Quiet Please" paddles used by marshals at golf tournaments.
Once the reporters entered, veteran defensive lineman Kedric Golston barked out: "Guys, be quiet now. Be quiet. We'll be on CNN."
Fans, for the most part, couldn't care less about the working conditions faced by sports reporters. Fans want their team to win.
They want to know what the players are saying. They want to know whys and hows and cool behind-the-scenes stuff. They want reporters to report the story without being part of the story.
But the folks who cover the Redskins have found themselves caught in the team's drama multiple times this year.
Players weren't happy when word got out that certain veterans were laughing and joking in the locker room within a half-hour or so of a 10-point loss to the Seahawks last month, leading to some frosty interactions in the days that followed.
Then, two days before last week's game against the Vikings, a substantial group of players became so rowdy and disruptive that Robert Griffin III's media session had to be moved outside the locker room. The players' ire was directed at the reporters and the public relations staff, in part because of a recent change in media access procedures.
An ESPN report went further, interpreting the outbursts as evidence that Griffin had "alienated himself" among some players in the locker room, even though Griffin appeared to be at most a collateral victim.
Such moments are embarrassing enough for the team, but what do they say about the Redskins (3-6) as far as wins and losses, and as to where the rest of the season is headed?
For one thing, they raise certain questions about the team dynamic: Where is the leadership in the locker room? Where is that strong personality who can command attention and get everyone to behave appropriately at the right times?
It's hard to imagine, for example, a bunch of teammates shouting down a group session involving Tom Brady or Peyton Manning. Or that any of those elite players would allow it to happen to a teammate.
For many years, that presence in the Redskins' locker room was supplied by London Fletcher, the defensive captain who never missed a game. But he retired at the end of last season after seven years as the team's respected leader.
In his wake, a vacuum has developed, for various reasons. Veteran cornerback DeAngelo Hall would have been a natural successor, but he's out for the season with a twice-ruptured Achilles tendon and is doing most of the recovery away from Redskins Park.
Respected nose tackle Barry Cofield has been on short-term injured reserve with a severe ankle sprain. Everyone loves receiver Santana Moss, but he rarely plays anymore.
Many key on-field veterans — from Perry Riley to Keenan Robinson to Chris Chester to Alfred Morris to Ryan Kerrigan — have either naturally low-key personalities or just don't possess the off-field grit to be the take-charge guy.
More vocal veterans Ryan Clark and Jason Hatcher just arrived in 2014, and neither is having an exceptional season. Gruden is also finding his way as a first-year coach, and his command of things might not appear very forceful to the players simply because he isn't as forceful as predecessor Mike Shanahan.
Griffin, as the quarterback, is also a logical candidate. But he, too, has been hurt, having just returned after missing six games with a dislocated ankle. Plus, his tendencies for self-promotion and going off-script can rub people the wrong way. It speaks volumes that the team did not allow him to speak to reporters during his rehab.
Griffin's confidence, however, can go far in leading a team, especially if he plays well. Just before leaving for the bye, he defiantly challenged those who doubt the team's leadership and the overall chances of making a run in the second half of the season.
"We want to be an organization that consistently wins, and we are going to figure that out," Griffin said. "I know not many people might not believe that. Many (reporters) in this room might not believe that. They might not believe we might not have the leadership on this team to be successful. But we do, and that's all that matters."
___
AP NFL websites: www.pro32.ap.org and www.twitter.com/AP_NFL
___
Follow Joseph White on Twitter: http://twitter.com/JGWhiteAP