Reds look for second straight win against Cardinals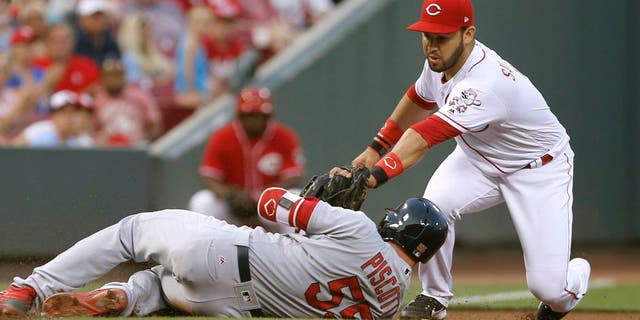 NEWYou can now listen to Fox News articles!
CINCINNATI -- The Cincinnati Reds have enjoyed considerable success against the St. Louis Cardinals for the past two seasons.
Pregame coverage starts at 6:30 p.m. on Fox Sports Ohio
However, heading into this week's four-game set at Great American Ball Park, Reds manager Bryan Price kept the focus on his club, which lost two of three to the Atlanta Braves over the weekend.
"I'm more concerned about our team," Price said. "We're (under .500). We'd like to think that if we got an enhanced performance from our rotation, we could bust out on a long win streak, but we have to improve that area."
The Reds got a quality start from Asher Wojciechowski on Monday en route to a 4-2 win over the Cardinals. The teams meet again Tuesday, when Cincinnati right-hander Tim Adleman (3-2, 4.89 ERA) will oppose St. Louis right-hander Adam Wainwright (6-3, 3.79 ERA).
Cincinnati (26-30) has won eight of its past 13 games against the Cardinals (26-29) and 11 of 19. The Reds took two of three at Busch Stadium in early April. They haven't won consecutive series against St. Louis since 2011.
The Reds are hoping to have right fielder Scott Schebler back in the lineup Tuesday after he missed two games with a strained left shoulder. He was hurt making a diving grab on Saturday.
Schebler has 16 home runs, tied for the National League lead. His absence further depleted an already short bench for Cincinnati.
"We say we can use (right-handed pitcher) Michael Lorenzen as an outfielder, but that's not an optimum situation," Price said. "It's not like having a true bench player, and it's not fair to Mike and it's not fair to the team."
Despite its pitching struggles, Cincinnati has been on a roll at the plate. Yet the Reds will face a hot pitcher Tuesday night, as Wainwright has allowed a total of one run in his past four starts (26 1/3 innings).
Wainwright pitched six scoreless innings and hit a two-run homer in his last start, Thursday against the Los Angeles Dodgers.
It is not unusual for Wainwright to start the season slowly. He owns a career 3.40 ERA in April, while his ERA plummets to 2.29 in July.
"He's got a lot of confidence in his fastball, and that's making everything else better," Cardinals manager Mike Matheny said. "He's making creative pitches. I think early on he was fighting to make a good pitch and make it good enough."
Wainwright is 9-10 with a 4.55 ERA in 27 games, including 22 starts, in his career against the Reds. He picked up the win in his last start against the Reds on Sept. 27 despite allowing five runs in 5 2/3 inning in a 12-5 Cardinals win.
Adleman is set for his 10th appearance of the season and ninth straight start. He has faced the Cardinals three times as a starter, going 1-2 with a 5.19 ERA. St. Louis beat him on April 28 at Busch Stadium, producing six runs (five earned) on eight hits in 5 1/3 innings.
Adleman is 1-0 with a 1.93 ERA in his past two starts.
Before the Reds' win on Monday night, the teams had alternated wins in each of their previous 11 meetings, including the final six games of 2016 and the first five games of this season. It was the longest such streak in the storied history between the rivals.