Boston Red Sox pitcher throws support to Trump, would visit White House if invited
It's unclear whether the Boston Red Sox would accept an invitation to go to the White House, but one player on the World Series championship team appears to be willing to go to Washington.
Red Sox reliever Heath Hembree was leaving a Los Angeles nightclub Sunday night after the team defeated the Los Angeles Dodgers in Game 5, and was asked if he'd go to the White House.
"Hell yeah!" Hembree told TMZ. "I f--- with Trump."
When asked what he liked about Trump, Hembree responded, "Everything!"
Whether Hembree will get a chance to go to the White House with his teammates remains to be seen.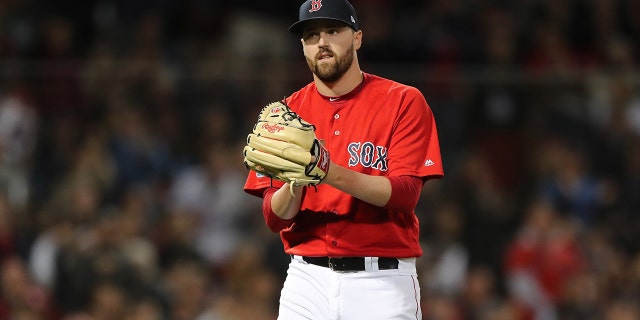 Boston manager Alex Cora told reporters in a post-game news conference if the team is invited to meet with President Trump, there will be a conversation among team members "later on."
Cora, a native of Puerto Rico, has been critical of Trump — most notably in September after the president claimed 3,000 people didn't die after Hurricane Maria hit the island, though Puerto Rico Gov. Ricardo Rossello officially updated the estimated number of those who died as a result of the storm.
Cora, at the time, said while he doesn't "agree with a lot of the stuff [Trump] says" about Puerto Rico, he admitted to respecting Trump because "he's the president of the United States."
John Henry, the principal owner of the Red Sox, told WEEI the White House has yet to invite the team. He said he believes the players will make the trip if they get an invite.
"This is a special team," he said of the iconic team, whose win Sunday night marked the team's ninth World Series title in franchise history. "We'll see what they want to do, but I think so."
Sports teams have traditionally visited the White House to celebrate their league's wins, whether it's the World Series, Super Bowl or Stanley Cup. But, since Trump took office, some sports players have skipped visiting 1600 Pennsylvania Avenue because of disagreements with Trump and his administration.
The president in June uninvited the Philadelphia Eagles, who had months earlier won Super Bowl LII, because members of the team didn't agree with Trump's views that NFL players should stand for the national anthem.
Most recently, the Seattle Storm did not receive an invitation to visit the White House after winning the WNBA championship in September, according to The Hill. The Minnesota Lynx didn't receive an invite either as the 2017 champions.
The White House did not immediately respond to Fox News' request for comment Monday evening.
Fox News' Nicole Darrah contributed to this report.