Rays team up with Diamondbacks for MLB All-Star Final Vote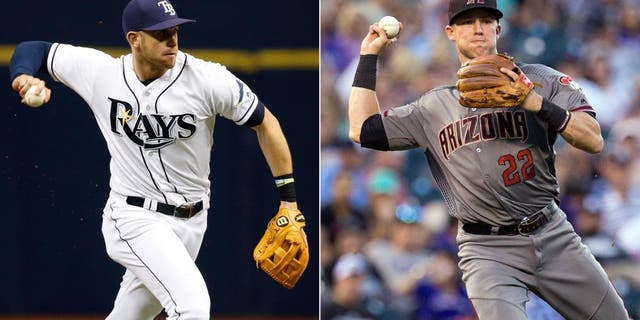 NEWYou can now listen to Fox News articles!
TAMPA BAY RAYS PRESS RELEASE
ST. PETERSBURG, Fla. -- The Tampa Bay Rays (@RaysBaseball) and Arizona Diamondbacks (@Dbacks) announced a campaign partnership encouraging fans to vote for Evan Longoria (#VoteLongo) and Jake Lamb (#VoteLamb) in the MLB All-Star Final Vote.
The two third basemen are being billed as #3rdPartyCandidates while both play for the two youngest franchises in Major League Baseball.
Fans who #VoteLongo at least 25 times at raysbaseball.com/vote and select the Rays as their "favorite" club on the ballot will automatically be entered to win four Rays Club Tickets and a meet and greet with the Rays third baseman before a 2016 regular season home game. Fans who #VoteLongo are also able to purchase up to four Lower Corner tickets for $3 each for one home game from August 1-4 vs. the Kansas City Royals.
Fans who #VoteLamb will have the opportunity to win a signed jersey from the D-backs third baseman and be entered into a sweepstakes to meet Lamb.
HOW TO VOTE
Voters also can use their mobile devices to cast ballots at MLB.com/vote or via text message. To vote for Longoria, fans can text the choice A2 to 89269, and N3 for Lamb. Message and data rates may apply. Text "STOP" to end and "HELP" for information. Mobile voting in Canada also is available and fans should text their choices to 101010.
Baseball fans have cast nearly 600 million online votes since the program's inception in 2002.
TWITTER VOTE BACK FOR FIFTH YEAR --€" FRIDAY, JULY 8 ONLY
For the fifth consecutive year, the MLB All-Star Game Final Vote will include social balloting, as Twitter support from the 10 candidates' fans over the last six hours of balloting will count toward their final vote totals. From 10 a.m. – 4 p.m. ET on Friday, July 8, any tweet that includes #VoteLongo or #VoteLamb will be tabulated as part of the official vote total used to determine the AL and NL winners.
WINNERS ANNOUNCED ON A SPECIAL EDITION OF MLB NOW --€" JULY 8, 4 P.M. ET
The winners, as chosen exclusively by online fan voting totals, then will be announced during a Final Vote-themed telecast of MLB Now featuring commentary from political analyst Jeff Greenfield, live on MLB Network and MLB.com from 4-5 p.m. ET. MLB Network will provide extensive coverage across all of its studio programming during the Final Vote, including interviews with the candidates, hourly updates, heat maps indicating the cities where votes are being cast for each candidate, updates on player and club campaigns and a running countdown clock leading up to the announcement.