Rangers hope offense is back on track as they host Angels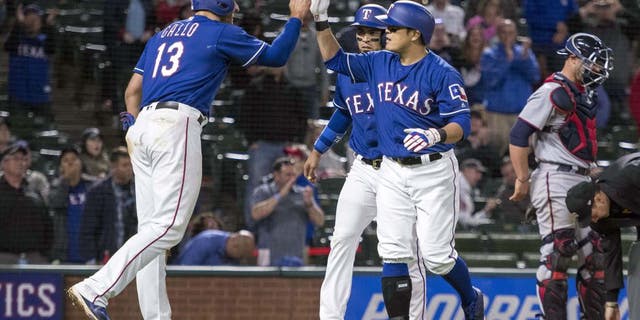 The Texas Rangers aren't about to say all is well at the plate after an offensive explosion, but there is definite reason for optimism going into a weekend series with the Los Angeles Angels, starting Friday night at Globe Life Park.
The Rangers (10-12) avoided a series sweep and snapped a two-game skid by walloping the Minnesota Twins 14-3 on Wednesday night. Texas scored all its runs from the fifth inning on, including eight crossing the plate in the eighth.
"We had some opportunities throughout the game, but these guys kept trying to create on the bases as well, and kept swinging the at-bats, and engaged in the at-bats," Rangers manager Jeff Banister said. "And I think they were really rewarded late with the approaches that they've had."
Banister shuffled the lineup and Delino Deshields, Shin-Soo Choo and Ryan Rua responded with breakout nights.
Deshields, batting leadoff, reached base five times and scored three runs. Batting ninth for the first time in his career, Choo had a triple and a three-run homer in the same inning. Rua stroked his first career grand slam.
Rua credited Deshields for setting the tone.
"For him to be able to do that and get on base five out of six times is outstanding," said Rua, who started at first base. "It's huge. He put together good at-bats, saw a ton of pitches, which helps out the rest of the team recognizing pitches and seeing what the pitcher's got."
After scoring just 20 runs in the previous eight games, the Rangers responded with a season high in hits (14) and runs.
"Hopefully we carry that into the series against L.A," Rua said.
The Rangers send Nick Martinez (0-0, 1.29 ERA) to the mound in what likely will be his last spot start for the immediate future. The right-hander was effective in his last outing, allowing one run on four hits over seven innings against Kansas City on April 22.
Martinez is filling in for A.J. Griffin, who is on the disabled list with gout in his ankle. The Rangers should be getting back Sam Dyson, but Banister doesn't plan to use the former closer in any high-leverage situations.
The Angels (12-12) are coming off a 2-1 home win Thursday night over the Oakland A's. Los Angeles has won four straight and five of seven.
The Angels are throwing Tyler Skaggs, who's 1-1 with a 4.44 ERA through four starts. Making his third start on the road, Skaggs earned the win in his last outing on Saturday against Toronto. The lefty worked seven innings and allowed two earned runs on seven hits with two walks and four strikeouts.
Skaggs flew to Texas ahead of the team.
"It's not ideal, but nothing we haven't done before," Angels manager Mike Scioscia said. "We'll be ready to play."
In five career games vs. the Rangers, he is 2-1 with a 6.20 ERA and did not factor in the decision in his start against Texas on April 11. He tossed five innings and allowed five runs on eight hits.
Angels starting pitchers have not allowed more than two earned runs in 12 of the last 13 games, compiling a 2.10 ERA in that span.
"We're confident with what that group of guys can do," Scioscia said. "Where we started the season the guys were stubbing their toe a little bit getting out of the gate. But for most of our guys, they've settled in and given us a chance to win on a nightly basis. It's been key."
Mike Trout is hitting .332 against the Rangers, the second-highest average by an active player with at least 150 plate appearances. Since 2012, Kole Calhoun leads the Angels, batting .323 (40/124) at Globe Life Park.
The Angels dropped two of three against Texas earlier this season in Anaheim.