Rangers, Flyers renew rivalry on NBC, TSN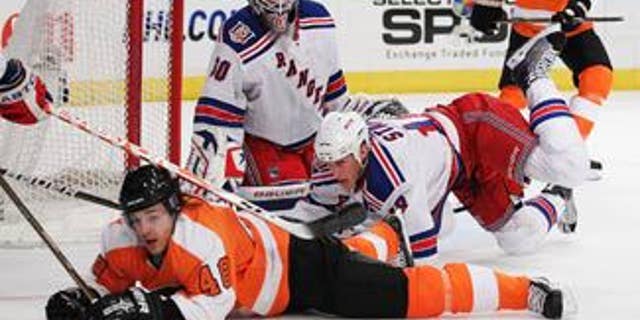 The New York Rangers' continued pursuit of a playoff berth in the Eastern Conference will be televised nationally Sunday afternoon as part of the NHL's seven-game schedule.
The Rangers, who are just one point ahead of the Carolina Hurricanes for the final playoff spot in the East, will face the Philadelphia Flyers at the Wells Fargo Center. Game time is slated for 12:30 p.m. ET and can be seen on NBC in the U.S. and TSN in Canada.
Three more games get under way at 5 p.m. ET, including a huge showdown between the Hurricanes and Buffalo Sabres from the RBC Center. Also, Detroit hosts Minnesota while St. Louis visits Columbus.
Two hours later, the Tampa Bay Lightning will aim for their fifth straight win as they face the Chicago Blackhawks at the United Center at 7 p.m. ET. Chicago (42-27-8) resides in eighth place in the Western Conference, three points ahead of ninth-place Calgary.
Sunday's action concludes with a pair of 8 p.m. (ET) starts -- the Flames will be in Colorado to face the Avalanche, while the Anaheim Ducks host the Dallas Stars.