Rams' defense coming closer to preseason expectations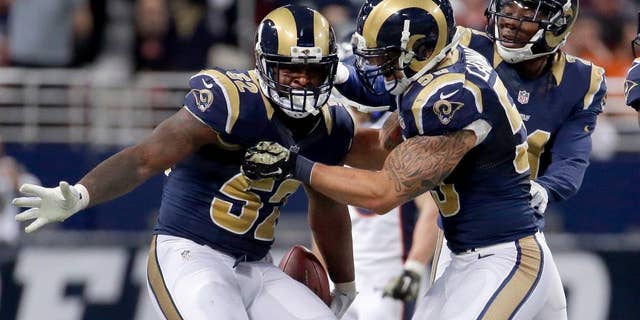 NEWYou can now listen to Fox News articles!
ST. LOUIS – Rodney McLeod lowered the boom, legally, with a perfectly timed, shoulder-to-shoulder hit on Broncos wide receiver Emmanuel Sanders.
The pass breakup on a deep sideline route sent Sanders off to be examined for concussion-like symptoms, but that wasn't the point. The St. Louis Rams' hopes for a late-season rally rest on a defense that's been making its presence felt more and more.
"That'll definitely go down as one of my best hits ever," McLeod said. "Very great play by me, and I'm glad to see Sanders is OK."
Coach Jeff Fisher congratulated McLeod after the hit in the third quarter and protested an unnecessary roughness penalty then, after the game, and again the day after the Rams (4-6) won 22-7. McLeod had a number of nice hits in that game and, perhaps with an assist from the coach, none of them was costly.
"I think they've already passed out all the fines and nothing came in my locker," McLeod said. "When you go back and review the tape, I think you can see I leveled my shoulder and not my helmet. I think the league made a great call."
The last three weeks, the Rams' defense has permitted just 34 points; the Cardinals' defense scored 14 points on turnovers by the Rams during that span. They're in the middle of the pack overall, ranked 17th, and aiming higher.
Even before Sam Bradford was sidelined by a knee injury in preseason for the second straight year, the blueprint called for ball control on offense, but capitalizing on big plays on the other side of the ball. St. Louis dominated in time of possession against Denver.
The Rams' scheme hasn't changed appreciably from 2012 when coordinator Gregg Williams' son, Blake, was defensive line coach. Holdovers from then had a better feel early on, and now those getting their first taste of Williams' system, such as McLeod and fellow safety T.J. McDonald, outside linebacker Alec Ogletree and tackles Aaron Donald and Michael Brockers, are catching on.
The Rams had two interceptions and two sacks against the Broncos, and the pass rush has finally gotten revved up with 13 sacks the last three games. Robert Quinn has been such a force that officials can whistle opposing tackles for holding all day.
"It wasn't any magic fairy dust," said middle linebacker James Laurinaitis, dueling Ogletree for the team tackles lead. "We all stuck to the script and just kept practicing, and we've just gotten better results."
Ogletree has an interception in two straight games and has been an all-around force in recent weeks. The second-year player said he's getting comfortable in Gregg Williams' aggressive scheme.
"Just being able to line up and see the right things," Ogletree said. "Just being able to capitalize on the opportunities when the ball's in the air."
Laurinaitis noted with pride, "Our confidence should be high as a unit, what we can be."
But in the next breath, he points out the Broncos' lone touchdown came on broken coverage in the secondary.
"Quite frankly, I'm not going to let this team become complacent," Laurinaitis said. "We've all taken turns busting things like that, when we're just not in our right areas.
"I think we have to eliminate all of those the rest of the season."
This week, they'll try to make things uncomfortable for the Chargers' Philip Rivers, nursing sore ribs. San Diego (6-4) has dropped three of four.
NOTES: Fisher said it's "probably unlikely" DE Chris Long will play this weekend. Instead, the Rams intend to use all of the 21-day window before activating Long from the injured reserve-designated for return list next week at home against Oakland. "I'd say he'd have a pretty good chance next week." ... The Rams practiced outdoors in chilly weather the last two days, with temperatures in the 30s and 40s, and Fisher makes it a point to wear shorts until Dec. 1.
___
AP NFL website: www.pro32.ap.org and www.twitter.com/AP_NFL