Radioactive from Dover: 'He's gotta be losing his (expletive)'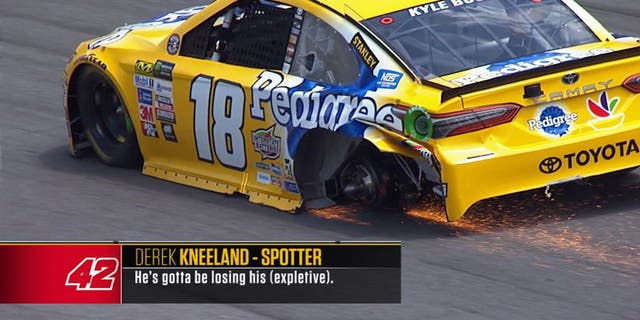 NEWYou can now listen to Fox News articles!
Another highly-entertaining edition of Radioactive aired on "NASCAR Race Hub" on Tuesday, featuring plenty of bantering between Monster Energy NASCAR Cup Series drivers, their spotters and crew chiefs.
And as usual, fans got to vote via Connect Live during the show on the week's "Radio Sweetheart" after listening into the rants of the likes of drivers Dale Earnhardt Jr., Ryan Blaney, Danica Patrick and others. Earnhardt even went on his own personal Periscope rant after the race, good-naturedly imploring fans NOT to vote for him once they heard it.
Then there was Derek Kneeland, the spotter for driver Kyle Larson who took note of the likely mental state of Kyle Busch after a tire literally fell off the No. 18 Joe Gibbs Racing Toyota being driven by Busch.
"He's gotta be losing his (expletive)," Kneeland said after suggesting listening to Busch's radio at that moment might provide for some pretty good entertainment.
Busch, after all, is the leader in the clubhouse at this point in the season as far as being voted Radio Sweetheart, having earned that distinction four times. Earnhardt has been named it twice, as has Ryan Blaney now that Blaney received the honor this week.
What did Blaney do to earn it? You'll have to listen in to find out.
Check out the video above to hear the full force of this week's Radioactive.