Queen's granddaughter Zara seeks UK Olympic berth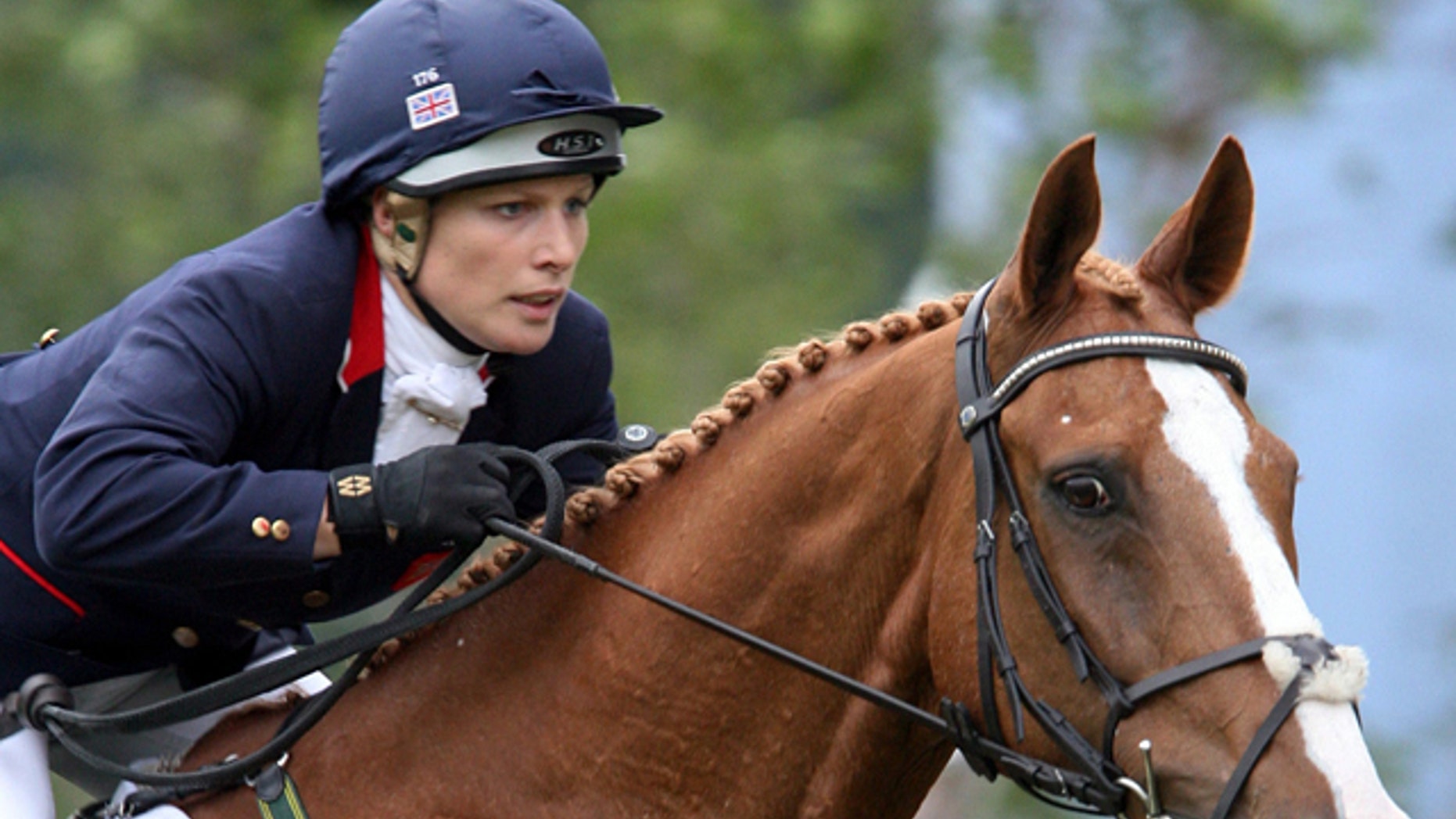 LONDON – Both her parents were Olympians -- but the honor has eluded her so far.
Zara Phillips, the 30-year-old daughter of Princess Anne, is seeking a berth on the British Olympic equestrian team after the heartbreak of being named for the 2008 Beijing Games but having to pull out due to an injured horse. Should she make it this time, the 14th in line to the throne will be the sole reason that thousands of Britons -- and millions around the world -- will become suddenly mesmerized by equestrian sport.
But that's a big 'if.'
"She is a longshot," said Lucy Higginson, the editor of the equestrian publication, Horse & Hound. "She's shown she can do it. (But) it's all about having the right horse at the right stage."
Royals and horses. It seems fitting that equestrian sports would be the ones in which the British royals and their entourages should excel. It's not, say, track. But it is the only Olympic sport in which an animal is as important as the athlete upon it.
Princes William and Harry are big-time polo players, but that's not an Olympic sport. The upcoming 2012 London Olympics would seem to be Zara's big moment. But luck has not been on her side.
She was supposed to have taken part in this year's famed horse trials at Badminton, the country estate that lent its name to the racket sport. Badminton is seen in the horse world as an unofficial world championships -- more competitive than the Olympics because it is open only to the sport's very elite, while the Olympics have representatives from around the world.
Then came the deluge. For the first time since 1987, the Badminton trials were rained out earlier this month. With that, Zara lost the one moment where a fantastic showing would have -- as they say here -- put her in with a shout. The team decision has been pushed back to June -- but there's no event like Badminton that would cleanly show she deserved a spot should she have done well.
American eventing legend Jimmy Wofford, who is a big fan of Zara's, said while she has the credentials, the lack of a "four-star" event before the selection process takes place will make it harder for her. The selectors will be looking for horses and riders who have proved themselves at such elite events
"She still has the same hill to climb," he said. "The hill got steeper."
Zara competes in three-day eventing, a grueling sport that combines the disciplines of dressage, show jumping and cross country. She rides High Kingdom, a 16.2 hands high (5-foot-6-inch) bay gelding that some say is relatively inexperienced.
Her previous horse, Toytown, retired after suffering an injury but was seen as a remarkable horse.
Zara has been close to the Olympics before. She won the World Championship in 2006, and was honored by her grandmother, Queen Elizabeth II, becoming a Member of the Order of the British Empire. She was also chosen the BBC Sport Personality of the year.
Disappointment came with Beijing, followed by a dry spell. Then last September, she rode High Kingdom to a 10th place at Burghley, storming back into the limelight.
But getting an Olympic berth is something else altogether -- since Britain already has favorites for four of the five equestrian places.
Unlike other sports, men and women compete together in the equestrian arena. Britain has traditionally done well in all sorts of equestrian events only to flub up when the Olympics come around. The team and the country really want to win this year with the games in London.
Zara, royal or not, will get no special privileges.
"If she makes it, it is entirely to her own merit," Higginson said.
Both of Zara's parents, Princess Anne and Mark Phillips, rode for Britain in the Olympics, though finished differently.
Anne competed in the 1976 Montreal Olympics riding Goodwill, but fell from her horse. She remembers her Olympic times fondly though and is now a member of the London organizing committee.
Phillips, a retired military officer, won gold in the 1972 Munich Olympics and silver at the 1988 Seoul Games. He now coaches the U.S. equestrian team but is said to be very involved in his daughter's efforts.
Zara has joked that her parents are very "knowledgeable," which can sometimes complicate things. It's clear, though, that her love of riding started with them.
"I was put on a horse pretty young. A passenger for a little while and then we used to have a little Shetland pony and then it grew from there," Zara said in a video made by one of her sponsors, Musto. "You definitely need the passion and the enthusiasm. You know, so many highs and lows with horses."
Just as the decision about the games nears, Britain's Daily Telegraph reported that Phillips was divorcing his second wife to move in with a top female U.S. equestrian only five years older than his daughter. But Zara has long made a point of ignoring the drama around her.
Wofford said the constant scrutiny that comes with her birth has offered her training that can be an advantage when faced with high-level competition and media attention.
"You're going to come under intense pressure," he said. "That's an advantage to her. She's in that situation every time she goes out for dinner."
She and her older brother, Peter, have held low profiles in the royal family -- the only ones among the queen's eight grandchildren not to hold royal titles. Princess Anne turned down her mother's offer of the honors for her children, shunning the ostentation that can come with the aristocratic life.
The timing of her wedding last year said a lot about Zara. By holding the ceremony only a few months after the royal wedding extravaganza of her cousin Prince William, she and her husband, rugby star Mike Tindall, avoided a lot of hoopla that likely would have come had the British press corps not been so distracted.
So it's wedding accomplished, Olympics still looming.
"Taking part in London would just be a massive dream for me personally," she told The Daily Telegraph in a rare interview last year. "It would be the pinnacle of my career. Everyone wants to go to the Olympics."
But can she do it? Many critics say much of it has to do not just with her, but her horse.
"It's kind of in the lap of the gods," said Joe Little, the managing editor of Majesty magazine.