Pussy Riot activists storm field during World Cup match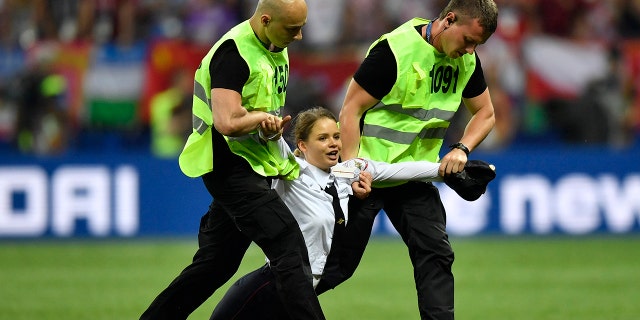 Four people associated with a Russian punk group were dragged off the field during the World Cup final in Russia on Sunday after they disrupted the game between France and Croatia.
The four pitch invaders wearing what appeared to be old-fashioned police uniforms dashed onto the field after Croatia goalkeeper saved Kylian Mlbappe in the 51st minute. One person was able to make it to the center circle before security guards tackled the individual.
The woman shared a high five with a French player in the center circle before being taken away.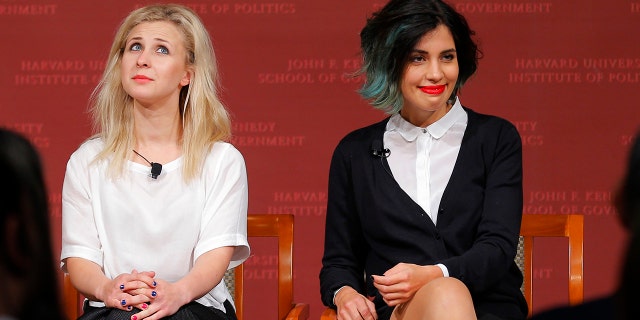 The balaclava-clad women of Pussy Riot, a Russian punk rock group, quickly claimed responsibility for the disturbance, saying it was done in protest.
"Hello everyone from the Luzhniki field, it's great here," the group tweeted.
The group put out a list of demands that included the release of all political prisoners and stopping arrests at rallies.
Their statement also referenced the case of Oleg Sentsov, a vocal opponent of Russia's annexation of Crimea from Ukraine in 2014, who was sentenced in 2015 to 20 years for conspiracy to commit terror acts. He denies the charges and has been on a hunger strike since mid-May.
Pussy Riot rose to global prominence with their daring outdoor performances critical of Russian President Vladimir Putin in 2012 that sent two members to prison for nearly two years.
France beat Croatia to win its second World Cup title, and first since 1998.
Croatia has never before gone past the semifinal stage.
The Associated Press contributed to this report.