Public memorial set for Joe Paterno at Penn State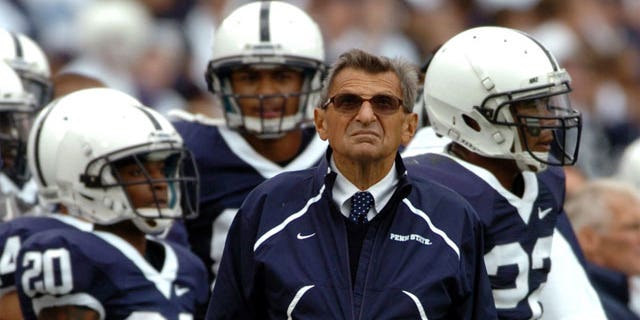 STATE COLLEGE, Pa. – For decades they cheered him, now it's time for Penn State students and alumni to mourn Joe Paterno.
Three days of public events were set to begin Tuesday as Penn Staters from State College and far beyond say goodbye to the man who led the Nittany Lions to 409 wins over 46 years.
Paterno died of lung cancer on Sunday, learning of his diagnosis in November just days after he was fired in the aftermath of the shocking child sex-abuse charges against former assistant Jerry Sandusky.
Paterno's son, Scott, says that despite the turmoil, Paterno remained peaceful and upbeat in his final days and still loved the school.
Big crowds are expected to show their love for Paterno over the next few days, with a 10-hour public viewing beginning at 1 p.m. Tuesday.
The viewing will be on campus at the Pasquerilla Spiritual Center. After another public viewing on Wednesday, Paterno's family will hold a private funeral service, followed by a procession that will run through State College.
Then, on Thursday, the school's basketball arena will be the sight of a public service called "A Memorial for Joe." Penn State was expecting a huge demand for seats and set a two-per-person limit for those ordering tickets.
The winningest coach in major college football history, Paterno was fired Nov. 9 after he was criticized over his handling of child sex-abuse allegations leveled against Sandusky in 2002.
Pennsylvania's state police commissioner said that in not going to the police, Paterno may have met his legal duty but not his moral one.
Bitterness over Paterno's removal has turned up in many forms, from online postings to a note placed next to Paterno's statue at the football stadium blaming the trustees for his death. A newspaper headline that read "FIRED" was crossed out and made to read, "Killed by Trustees."
Lanny Davis, lawyer for the school's board, said threats have been made against the trustees.
Scott Paterno, however, stressed that his father did not die with a broken heart and did not harbor resentment toward Penn State.